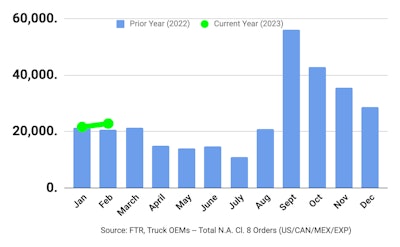 The new truck market bounced back a bit in February, recording preliminary Class 8 orders of approximately 23,000 units ACT Research and FTR reported Thursday. ACT Research pegged the month at 23,600 orders; FTR totaled 22,800 units. Both numbers were up 13 percent month over month and the first positive month over month total since September 2022.
FTR says February's total represented a solid level of order activity, suggesting there may be a stabilizing in the low 20,000-unit range after the steady drop that occurred in the fourth quarter and bled into January this year. The company says Class 8 orders have totaled 303,000 units over the last 12 months.
"Orders likely are below build rates for the month, and FTR would anticipate backlogs to slip slightly. However, backlogs remain at high levels and production slots are mainly filled through Q3 of this year. As such, the February performance is a good sign for the industry as fleets continue to order equipment," says FTR Chairman Eric Starks. "Over the past year, total net orders reached 303,000 units. In any market, this is a strong number. However, given the uncertainty in the economy, this is an especially welcome sign that demand has not collapsed and that fleets still have access to capital."
[RELATED: Nominate a truck dealer for the 2023 Successful Dealer Award!]
ACT Research agreed that surpassing 20,000 units was a positive for the sales channel.
Vice President and Senior Analyst Eric Crawford says the company does not forecast orders and given how robust Class 8 orders were into year end, ACT Research was expecting seasonally adjusted orders in the range of 15,000 to 20,000 units per month in the near term. He says "February's [seasonally adjusted] 22,400 represents a modest upside to our expectation. Combined with January, [seasonally adjusted] orders have averaged 19,700 units year to date."
ACT Research also reported preliminary orders for Classes 5-7 at 17,500 units.
"Medium-duty demand took a modest step down," Crawford says. "February Classes 5-7 orders declined 11% year over year and 2% month over month to 17,500 units. The seasonally adjusted February intake, at 16,400 units, declined 12% year over year and 9% month over month."y/y (-9% m/m)."