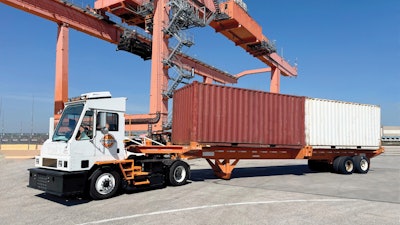 Orange EV introduces its new HUSK-e Series terminal truck, designed for port and intermodal operations.
Beginning production at Orange EV's 400,000 sq.-ft. global headquarters in Kansas City, the HUSK-e is purpose-built to handle the demanding needs of port operations, rail and intermodal sites, and other heavier duty applications.
"The HUSK-e complements the current e-TRIEVER offering from Orange EV by providing customers with the Big Dog," says Kurt Neutgens, Orange EV president and CTO. "HUSK-e has been designed specifically for port and rail power, torque and load requirements while continuing to provide the unmatched reliability, drivability, and service that Orange EV has become known for after 8 years of producing and delivering pure electric yard dogs."
The HUSK-e Series also offers driver safety and comfort enhancements, the company said, with reduced noise and vibration, no diesel exhaust, no transmission, better visibility, and a 50% reduction in stopping distance. Specific performance qualities include:
GCWR up to 180,000 lb., pulling the heaviest loads including a bomb cart chassis loaded with full-weight twin 20-ft., containers up to 32 mph.
Ample speed and acceleration to handle faster-paced, maximum-load operations at steeper grades.
A 243 kWh battery pack delivers energy and can fully recharge in approximately two hours by utilizing 105+ kW CCS1 charging.
Lithium-ion iron phosphate (LFP) batteries to maximize longevity/safety vs. NMC batteries, the company said. Designing and building their own battery packs specifically for the yard dog since 2015, Orange EV's 820-plus commercially deployed electric trucks have more than 3.6 million hours of operation, are all operating on their original battery packs, and come with a battery warranty of 7.5 years or 220,000 / 396,000 / 410,000 kWh (specific kWh is dependent on battery pack size).
Cost savings: Hard savings for fuel and maintenance of over $120,000/year per truck are possible in two-shift port operations, the company said. Additional savings could be realized through better uptime, smoother operation, higher productivity, and operator health and safety.
Orange EV says HUSK-e Series is ready for orders now, with initial deliveries expected as early as the fourth quarter of this year.