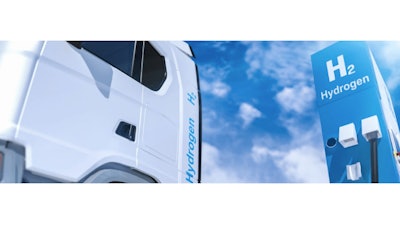 The North American Council for Freight Efficiency (NACFE) released its latest guidance report on "Making Sense of Heavy-Duty Hydrogen Fuel Cell Tractors." NACFE presented the report during a webinar this week.
NACFE Executive Director Mike Roeth says the industry made a ton of progress this year, despite the COVID-19 pandemic. "If you were to ask me in February … what kind of progress we'd make, I wouldn't have predicted we would be where we are."
Hydrogen and electric trucks are a good example of what's possible with a lot of investment, a lot of press and a lot of results from the deployments, Roeth adds.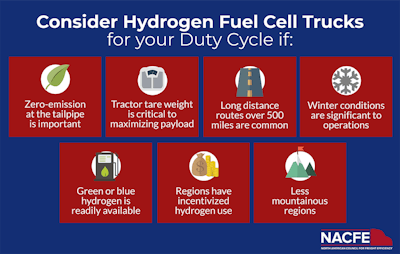 He also started off the presentation by clarifying hydrogen fuel cell electric vehicles are electric vehicles. "I want to start with that. It's a range-extended electric vehicle. We consider this part of our continued work on zero emission electric trucks."
The report's key findings are:
Hydrogen fuel cells trucks are just starting to see real-world use and their adoption is being driven by regional or national considerations that are much bigger than what exists for trucking fleets.
Battery electric trucks should be the baseline for hydrogen fuel cells electric vehicle (HFCEV) comparisons, rather than any internal combustion engine alternative.
As for all alternatives, fleets should optimize the specifications of HFCEVs for the job they should perform while expecting that the trade cycles will lengthen.
The future acceleration of HFCEVs is likely not about the vehicles and fueling but resides mostly on the creation and distribution of the hydrogen itself.
Finally, the potential for autonomous fuel cell trucks to operate 24-hours a day adds significant opportunity for making sense of capital and operational investment in hydrogen.
"The truck is the smaller part of the whole equation and it's going to be driven by regional or national considerations that are much bigger than what exists around the truck or for trucking fleets. It's about the creation and distribution of the hydrogen. Another factor is the availability of renewable energy," Roeth says.
Also regarding the key findings, he says, "If an electric truck can do the job, you should buy an electric truck and not consider a fuel cell one. When we say 'do the job,' that's all kinds of [factors]: range, charge time, weight and a number of other considerations."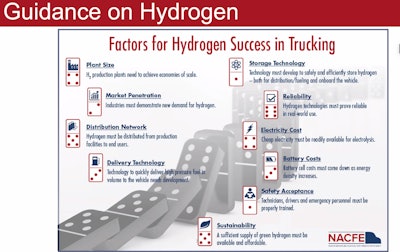 The report also offers fleets recommendations on how to proceed with hydrogen fuel cell electric truck exploration:
Fleet investment in new fuel cell electric and battery electric vehicles requires vehicles. The debate on infrastructure is irrelevant if there is no demand.
Hydrogen is a regional solution, cheap hydrogen even more so. The ability to scale truck demand will be limited by the nature of truck production volumes and market forces.
Purists pushing green hydrogen as a goal should accept that some compromise is needed to allow alternatives in the "how" of getting to net zero-emissions.
Stop comparisons of fill times. Fill times are moving targets for both fuel cell and battery electric vehicles. In a zero-emission future world, as in California's plans, diesel does not exist. What is the value of a comparison on fill times?
Incentives, grants, credits and tax breaks will be around for a while. Truck production volumes versus zero-emission target dates will require zero-emission transport financial help for some years.
"While the technology is fairly mature, the application is fairly new and there should be an expectation of a learning curve with any new technology and that should not dissuade fleets from getting interested in it because that's how products improve in our industry. They get fielded and then the fleets get to feed back to the OEMs how to make them better. That's how diesels have gotten where they've gotten," says NACFE Director Emerging Technologies Rick Mihelic.
For more on the NACFE report, CLICK HERE.