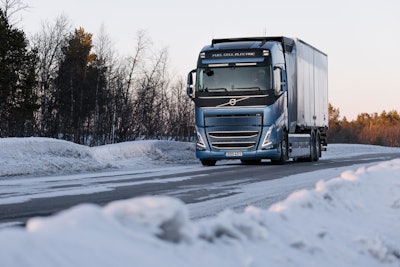 Volvo is testing hydrogen-powered fuel cell trucks on public roads in northern Sweden.
"Trucks are operating seven days a week and in all types of weather. The harsh conditions on public roads in northern Sweden, with ice, wind and lots of snow, make an ideal testing environment," Vice President of Powertrain Product Management Helena Alsio says. "I am pleased to say that the tests are going well, confirming tests we carried out beforehand, both digitally and on our confined test track close to Gothenburg."
[RELATED: Volvo expands service contract product, adds more Certified EV Dealers]
Fuel cell electric trucks powered by hydrogen will be suitable for longer distance when using only batteries isn't an option, Volvo says. The trucks emit only water vapor. The fuel cell trucks will be available in the second half of this decade, the company says.