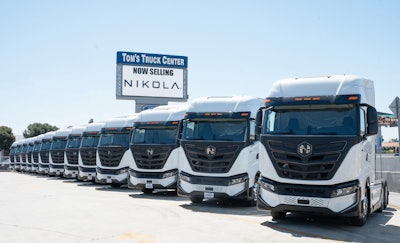 Tom's Truck Center has added the Class 8 Nikola Tre battery-electric vehicle (BEV) to its electric commercial truck lineup.
Nikola's zero-emissions trucks are now available for sale at Tom's Truck Center's two dealerships (along Interstate 5 in Santa Ana, Calif. and Santa Fe Springs, Calif.), and the Nikola Tre hydrogen fuel cell electric vehicle (FCEV) is expected to be available by the end of the year.
The Nikola Tre BEV is expected to travel up to 330 miles on a charge and the Nikola Tre FCEV is expected to travel up to 500 miles on a tank of hydrogen, the company says.
"We are dedicated to supporting the transition to zero-emission vehicles in the commercial truck space and adding Nikola Tre BEVs, and soon Nikola Tre FCEVs, is the perfect addition," says Tom's Truck Center President and CEO KC Heidler. "Converting vehicles of this size to electric will be a game changer in reducing overall emissions. We have already seen robust sales of the new Nikola trucks; we completed our first 14 BEV sales last month, which are expected to take delivery in May, and are on track for even more in the coming months."
In addition to Nikola zero-emission trucks, Tom's Truck Center says it currently offers GreenPower EV cargo vans, Ford EV Transit cargo vans, and REE EV Platforms. Next year, Tom's will add Hino EV and Isuzu EV trucks. Tom's Truck Center also provides two convenient places for recharging, with "fast chargers" available at the two Tom's Truck Center dealerships.
Thanks to the California Air Resources Board (CARB), there are cost-saving incentives available to accelerate the commercial vehicle transition to zero-emission technologies. California is leading the way with California's Hybrid and Zero-Emission Truck and Bus Voucher Incentive Project (HVIP) which provides point-of-sale vouchers to make vehicles more affordable. For example, with a BEV voucher valued between $120,000 and $186,000, a customer can pay approximately the same purchase price as a diesel truck yet have the benefits of electric.
Tom's Truck Center team members work closely with HVIP and other incentive partners and are well-versed in the EV commercial marketplace and charging infrastructure options to assist customers.
"The future is the transition to zero-emission vehicles, and we are dedicated to being the leaders in the commercial truck space," adds Heidler. "We are thrilled to have these vehicles now available on site at our dealerships so everyone can experience these new electric trucks in person."