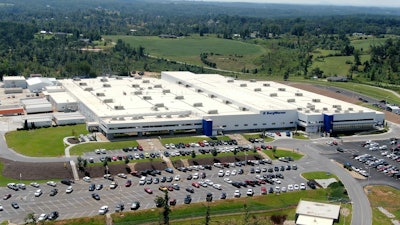 BorgWarner will expand plants in South Carolina and Michigan, spending more than $60 million on new facilities.
[RELATED: BorgWarner spins off fuel systems, aftermarket segment]
"The ability to expand our existing BorgWarner operations producing energy-efficient, clean products is crucial as we continue to 'Charge Forward' toward our goal of enabling lower-emissions transportation," says Volker Weng, vice president and general manager of BorgWarner Drivetrain and Battery Systems.
The Seneca, South Carolina, plant will see a $42 million investment that will upgrade both the building and equipment, including new manufacturing lines for the production of 3GWh of annual battery module capacity. The expansion there is expected to create 122 jobs, including production, technical support, manufacturing, engineering, maintenance and supporting function positions.
"I want to thank the state of South Carolina and Oconee County for their support in further enabling the launch of new production processes at our Seneca facility, which will provide additional capacity to better meet U.S. customer demands for BorgWarner battery assemblies," Weng says.
In Michigan, a $20 million will be spread across three plants in Auburn Hills, Dearborn and Hazel Park, creating 186 jobs. The expansion will accelerate development, manufacturing and testing of EV products and charging infrastructure.
"This is a significant investment for our company as we continue to charge forward with our electrification strategy," says Frederic Lissalde, president and CEO of BorgWarner. "On top of creating more pathway jobs in the community to improve the quality of life for local residents, we intend to use the grant to expand BorgWarner's manufacturing capability and presence, enhance volume capacity and grow our cross-functional departments."
BogWarner is receiving a $1.86 million grant from the Michigan Economic Development Corp. to help with the expansion.
"We are grateful to receive this grant from the MEDC as we continue to expand upon and grow our EV offerings," Lissalde says.
Auburn Hills' plant will get new electrification labs that will house testing equipment and allow for new research and development. In Dearborn, the plant's footprint will increase by 7,000 square feet to grow manufacturing, engineering and service departments related to DC fast-charging equipment, doubling Dearborn's capacity. Hazel Park will get a new, separate 100,000-square-foot battery service center for all BorgWarner batteries in North America. The existing Hazel Park plant will also get a new battery module assembly line.