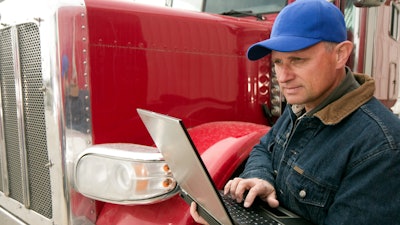 Customer expectations and desires are always changing. History is littered with businesses that turned market-leading positions into bankruptcies. Revolutionary sales models are only cutting edge for so long.
Staying ahead in a market, any market, requires foresight and strategic brilliance, but it also requires dexterity. For every Amazon and Walmart driving retail innovation, there are thousands of other companies succeeding in direct competition against those behemoths thanks to product availability, market knowledge and customer service expertise.
The medium- and heavy-duty truck parts space has mostly avoided disruptions on the level of those retail giants, but the industry is still one in flux. Customer perceptions are changing, and innovations found in other markets are constantly putting pressure on brick-and-mortar parts retailers.
Success in 2023 and beyond in the parts business will require dealers and independent distributors to identify and implement tools that enhance customer experience and strengthen the bond between buyers and sellers.
The internet is your friend
When it comes to sourcing parts, the days of the printed supplier catalogs are numbered. For many vendors, they've already been discontinued. Truck parts suppliers are spending tens of millions of dollars annually to build online catalogs that offer the most expansive product information libraries the distribution channel has ever seen.
Distributors who aren't using those portals are going to market with a hand tied behind their back. Print catalogs are outdated the second they are published and drastically limited in scope. Online portals, comparatively, give distributors access to thousands of data points instantly. When a customer's truck is down and a part needs to be identified and ordered straightaway, online portals offer a much faster pathway toward resolution.
"This industry is challenging because, in some cases, a part number may not mean anything. You also need a quality description of product, specs, images, literature, guidance on how to install it or where to find it," says Ram Chandrasekar, founder and CEO at PhaseZero.
[RELATED: PhaseZero debuts CxAnalytics 1.0 platform]
As one of trucking's leading business to business (B2B) and business to consumer (B2C) online solutions developers, PhaseZero positions its products not as simple sales tools but resources for a company's digital transformation. PhaseZero believes there are seven steps in a customer's journey and Chandrasekar says the company takes "enormous pride in serving all steps in our customers' journey."
The great advantage for distributors in this area is how easy a sales team can be acclimated to a digital resource. Vendors who are investing in these tools aren't doing so in a vacuum. They are concurrently building training and marketing materials to support their use in the field. Chandrasekar says distributors hungry for that training can acquire it from PhaseZero's vendor partners.
Employees are often highly receptive to this training, too, due to both personal familiarity with similar tools outside of work and their desire to find solutions that will help them solve problems easier.
"The current generation is the on-demand generation," Chandrasekar says. "They want tools that can give them [information] immediately."
It's also important to note supplier portals aren't the only websites that can boost sales team productivity. Trucking has many third-party parts suppliers that can be called upon in challenging situations to accelerate a parts acquisition when conventional channels have failed. That's a main tenet of FinditParts' value proposition, says CEO David Seewack.
"We want to be that backup for counter people to make sure they get what they're looking for to get their customer back on the road," he says. "We're trying to be their friend. We're not looking to take their customer … . When the customer is in front of them or the phone is ringing, we hope to be an aid to them."
And when they're desperate for a product, Chandrasekar says customers will take help any way they can. He cites Amazon as a prime example. Customers don't care how Amazon sources and ships product, only that it's available and arrives on time. "They make our lives easier by not worrying about what's happening behind the scenes," he says.
FinditParts wants to do the same thing for the distributor parts counter.
"We want to be the unsung hero," Seewack says. "My customers don't care where we got [the part] from, they only care that we were able to find it to help them and their customer."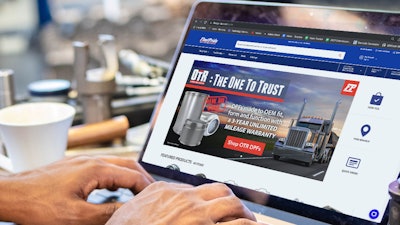 And while it could be tempting to see those instances where a salesperson is vital to customer's purchase as evidence the distribution business is protected from e-commerce disruption, such an opinion could be dangerous. While the complexity of heavy-duty truck parts will always require on-site expertise, distributors who neglect e-commerce risk losing customers who seek simplicity and efficiency.
That was impetus of FleetPride's investment into its e-commerce platform, says Senior Vice President of Digital Darren Taylor.
"For us it wasn't just about the website; it was transforming our business around the customer," he says.
That's increasingly important for younger buyers, who are digital natives, and who earn more buying power in the market with each passing day.
GenAlpha CEO Kristina Harrington says digital natives are buyers born in the mid 1990s or later and have never known life without internet. They shop online in their personal lives and expect that same level of digital accessibility from their business vendors.
E-commerce also offers operational benefits for everyone involved.
"The parts ordering process for heavy equipment can be complex," Harrington writes. "Selecting the exact parts for a specific serial number or model is critical, so time is spent ensuring the right products are ordered. This process can take even longer when it requires going back and forth with someone on the phone, in person or through email."
She adds, "Imagine how much simpler it would be for a customer to find a previous order all on their own and have it ordered again in a few simple clicks. That's the experience that's available through digital self-service."
That improved customer experience benefits parts professionals as well, says Midwest Wheel's Steve McEnany, vice president of marketing and technology. Midwest Wheel has had an e-commerce portal for nearly three decades, and McEnany says more than 30% of the company's sales come from the website.
McEnany says Midwest Wheel's motivation for building and consistently enhancing the portal has been rooted in customer experience, yet acknowledges the downstream positive impact it has on the entire company.
"We have been on a journey rather than a destination, always looking for the next piece to change/add to make the customer experience better. Today, our modern portal focuses on delivering value to the user through mobile, order tracking, statements, invoices and self-service," he says.
"By providing customers with access to comprehensive product information and marketing materials, our sales teams can quickly direct them to the resources they need. This, in turn, reduces the volume of calls and queries our sales teams receive, giving them more time to focus on delivering a personalized experience to customers. Overall, the portal helps our sales teams be more efficient, effective and customer focused."
Other distributors have come to the same conclusion. TruckPro recently bolstered its e-commerce portal, a move CEO Chuck Broadus said would help customers "shop confidently, save valuable time, and know that they will be able to find what they need to keep their equipment on the road."
Taylor agrees, noting FleetPride's portal is a differentiator against most parts competitors. Truck parts historically was not a self-service industry, but as more customers show an interest in making some purchases independently, Taylor says FleetPride's e-commerce portal offers them that opportunity.
"It saves them time and money and makes the buying experience more reliable," he says. "They can get their trucks [back] on the road faster, or get their jobs done faster."
Adds McEnany, "The ease of access to product information, live inventory counts, order tracking, invoice copies, statements and order history all bring customer value."
Know how customers want to pay
Whether selling online or in-person, distributors in 2023 also must accept credit cards. Not every potential customer wants to set up an account or invoicing strategy. Online shoppers, especially, are conditioned to have credit card information (or alternative solutions like PayPal, Apple Pay, etc.) ready at the conclusion of any transaction. Whether those same people are buying one part or 50, they'd like to have the same option from their distributor.
Peter Brickman, founder and president of National Credit Card Processing Group, says many parts businesses are reluctant to accept credit cards because they fear excessive processing fees. Far too many times, Brickman says he's met distributors processing credit card payments through their local bank and getting hit with excessive processing rates because the processor doesn't understand the distributor business model. Less common but equally frustrating are distributors who won't accept credit card payments at all.
Brickman says his business, which specializes in credit card processing specifically for heavy industries, is trying to correct that. NCCP Group offers bespoke fee structures for distributors based on their business model and customer purchasing habits. By using NCCP Group, Brickman says distributors with large e-commerce operations can offer a credit card payment option without damaging their margins, while businesses with large walk-in traffic can serve customers quickly without the need to set up every customer with an account.
"Everybody pays with a credit card these days," Brickman says. "Our business is about saving those distributors time and money while giving their customer that payment option."
The businesses in the parts space who are thriving online understand the importance of credit card processing.
McEnany says Midwest Wheel offers credit card purchasing through its B2C site (the company uses NCCP Group for that processing, Brickman says); Taylor says FleetPride enables online buyers to purchase using whatever payment method they prefer at the time. He says sometimes customers who are invoiced for brick-and-mortar purchases will instead buy with a credit card when ordering online and vice versa. FleetPride wants to be able to serve the customer either way, depending on their preference at the point of sale, he says.
Beyond the customer experience angle, Brickman says credit card processing has advantages for sellers, too. NCCP Group's solution enables distributors to seamlessly accept and store customer purchasing data for future card-not-present transactions in its payment gateway, shifting the data privacy liability from the distributor to the vendor. Credit card processing also reduces accounts receivable headaches and offers customers with poor credit a purchasing option when they need a part but don't have an account.
"We like to make your payments as easy as possible to accept and make your customers have an easy experience," Brickman says.