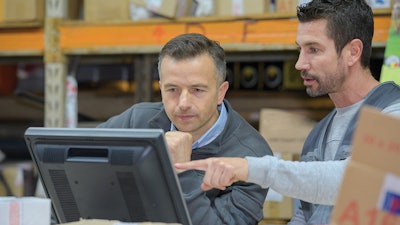 For distributors, supporting equipment over its full product lifecycle is no easy task. There are numerous activities over the course of operation that will require support from your customer service teams. Whether it's searching for product information, requesting a quotation for replacement parts, or following up on order and invoice status, these activities cost time and money.
But with online self-service tools, much of the time to manage these activities can be significantly reduced.
Today we'd like to highlight seven recurring tasks that distributor aftermarket teams can solve quickly by providing customers with online self-service tools.
Reordering
The parts ordering process for heavy equipment can be complex. Selecting the exact parts for a specific serial number or model is critical, so time is spent ensuring the right products are ordered. This process can take even longer when it requires going back and forth with someone on the phone, in person, or through email. Even routine reorders that are made all the time, like stocking orders or consumables, can end up taking a big chunk of time. The customer service or sales rep on the other side of the phone has to look up the account in the ERP, find the previous order or invoice, identify the part numbers, re-quote, and then re-enter the order when received. Both parties end up spending more time than they'd like.
Imagine how much simpler it would be for a customer to find a previous order all on their own and have it ordered again in a few simple clicks. That's the experience that's available through digital self-service. It's simple for customers to find past orders when they need them and reorder them without ever having to pick up a phone or send an email. It saves time not only for the customer but also for the sales team.
Checking Order Status
When an order is placed, it's important for customers to know when their parts will arrive and to track the packages after they've left the warehouse. But that's tough for aftermarket teams who don't offer digital self-service.Customers are required to contact sales or service to get this information. There's nowhere to send customers who want to know more about their order and track its status.
[RELATED: Three reasons why distributors should start their digital journey]
With digital self-service options, customers have up-to-date information about their orders at their fingertips. It saves phone calls to the customer service team about when orders are arriving and provides peace of mind when making a purchase. Customers can track orders from the minute they place them, to when it's arrived.
Getting Price and Availability
How often do customers contact distributors asking about the price and availability of parts and components? These calls place an unnecessary strain on busy team members who have to answer these questions instead of focusing on higher value-adding activities. When purchasers need parts quickly they want information fast and easy.
Allowing customers to find that information on their own boosts customer satisfaction while improving efficiency for the aftermarket team. By integrating an eStore into an ERP, all of that information is updated in real-time. It eliminates any confusion about price or whether something is available to be ordered.
Requesting a Return
For aftermarket teams and warehouses, dealing with returns is no simple process. They can end up being costly and time-consuming if not handled correctly. It's not as if a customer can easily repackage something and send it back. They often handle large and expensive components, so processing these returns requires a clear process, approval, and appropriate documentation. And while this is a complex process, customers expect it to be fast and easy.
That's why a digital return materials authorization (RMA) process is beneficial. It provides an optimized returns experience that takes the complexity out of it. Distributors can track returns, process refunds, and improve the customer experience. It helps customers to maintain confidence in a distributor while helping to understand why a return was made, and preventing it in the future.
Comparing Multiple Products
Another major benefit of online self-service tools is the clear product information it provides. More information means that buyers can feel more confident when making a purchase.
One of the ways they can have the assurance they are making the right selection is through product comparisons. By easily comparing two or more products, customers can understand the key differences, they can review the product specifications and attributes of each product, and ultimately make a more well-informed decision. Doing so increases product selection accuracy and customer satisfaction, which again leads to fewer calls to customer service representatives, who often don't know the different attributes of products to easily support the customer with comparative features.
Searching for the Right Product
Traditionally, customers have had to call or email to try to identify and order the right parts. And when they did, then either the salesperson, technician or customer service representative would have to look through a physical paper manual, or access different internal engineering or technical publications systems to try and find the exact part they needed. Powerful digital search tools make that a thing of the past.
[RELATED: The answers to your toughest business challenges may be hidden in your own data]
Searching for product identification has never been easier. Customers can search by part number, legacy part number, description, vendor number, serial number, VIN, or model to identify the products they are searching for. A quick search will give them all the relevant information they could need.
Product search is one of the most important aspects of any online digital solution and this alone becomes tremendously useful to customers, salespeople, and internal customer service representatives.
Automating Product Suggestions
Many maintenance activities commonly require multiple parts to complete the job. Online digital tools can ensure that the right products are recommended automatically when other products are being searched.
Take kits for example. Rather than buying individual components for an oil change, like oil and filters, customers can be suggested a complete oil change kit that includes everything they need to perform specific maintenance on a piece of equipment. Doing so saves time for everyone involved.
Usually, when a customer calls the call center or sends an email, they want one thing, and the representative on the other end provides only what the customer has requested. They don't always have the training or the time to make the appropriate product suggestions. Having digital self-service means that additional product suggestions, like kits, will automatically be recommended and cause fewer calls and emails, and lead to higher aftermarket revenues.
In Summary
There's never been a better time for distributors to start their digital commerce journey. Customers now, more than ever, are expecting to search for equipment and parts information from any mobile device. Giving your customers, technicians and support teams access to online self-service tools saves everyone time and money and streamlines the overall equipment support process.
If you haven't already, it's time to get started.