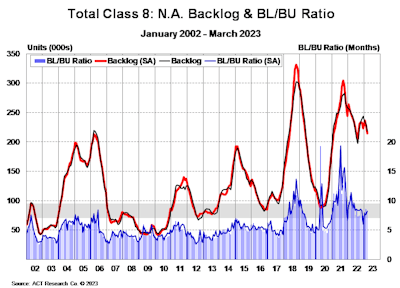 Trucking industry demand was healthy in March, ACT Research says, despite interest rate hikes and turmoil in the banking center.
Pent-up demand is resilient and cancellations remain at miniscule levels in heavy and medium duty. However, heavy- and medium-duty orders declined double digits year-over-year, according to ACT's "State of the Industry: NA Classes 5-8."
"As supply conditions have slowly improved, so has output," Eric Crawford, ACT's senior analyst says. "Supporting this trend, March HD and MD production exceeded build plans. The Class 8 build rate in March was 1,361 units per, 4.2% above industry build plan, with the industry producing 31,306 units. Classes 5-7 build averaged 1,090 units per day, 13% above build plan, with 25,065 units produced."
[RELATED: Experts anticipate another rate hike in 2023]
Crawford continued that the Class 8 backlog should be on a downward trajectory should continue until 2024 orderboards open. March's backlog was down 12,500 units to 218,300.
"Coupled with March's stronger build rate, the HD backlog-to-build ratio declined 100 basis points month-over-month to 7.6 months (8.1 seasonally adjusted). Of note, 122,400 units in backlog are scheduled for second half of 2022 this time last year," he says.