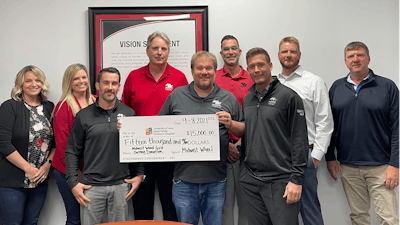 Midwest Wheel Companies has announced a donation to the University of Iowa Stead Family Children's Hospital in the amount of $15,000.
Funds for this donation were raised during the Midwest Wheel Companies 42nd Annual Heavy Duty Fall Sales Meeting Golf Outing. Midwest Wheel's team and supplier partners played a vital role in raising a notable total, with Midwest Wheel and Automann being top donors.
UI Stead Family Children's Hospital treats and serves all 99 counties in Iowa, 46 states and 16 countries abroad. Last year alone the hospital cared for more than 83,000 patients. Donations to the hospital support child life activities and services, financial needs to patients and their families, research, clinical care and more. UI Stead Family Children's Hospital is the only nationally ranked and comprehensive children's hospital in the state of Iowa.
"We are impressed by the amazing work and dedication the UI Stead Family Children's Hospital provides and are honored to have had the opportunity to support the organization," said Michael Callison Jr., president and CEO, Midwest Wheel Companies.
"The generosity from our employees and suppliers has been outstanding and we cannot thank everyone enough for their participation in the golf outing and contributions made to make this donation possible," adds Callison.