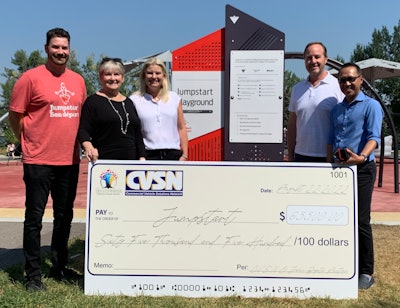 Commercial Vehicle Solutions Network (CVSN) distributor and supplier members showed again how generous the aftermarket is at the June 2022 CVSN Summit at the Ritz Carlton Hotel in Lake Tahoe, Calif.
The organization raised $65,500 during its children's charity auction at the June event in memory of the late John Bzeta of Fleet Brake Parts and Service toward JUMPSTART.
Since 2005, JUMPSTART has helped 2.5 million kids overcome financial and accessibility barriers to sport and recreation in an effort to provide inclusive play for kids of all abilities. JUMPSTART is more than just about getting kids active. It's about giving kids from families in financial need the same chance to participate as their neighbors, their classmates and their friends. Whether it's the chance to try a new sport or to continue with a favorite one, no kid should be left out. JUMPSTART'S mission is to enrich the lives of kids in need through sport and physical activity.
On Aug. 22, John Bzeta's wife Michelle and mother Judy were on hand to present the $65,500 check to JUMPSTART along with Fleet Brake CFO Fed Condiman. Also on hand were Brad Ellard, JUMPSTART regional manager for Alberta and Rob Hatch, local Canadian Tire Dealer.
CVSN would like to thank all who donated items for the auction and generously bid and won the items of their choice. The organization also would like to offer a huge thank you to the local auctioneer Ravn Whitington for being the official auctioneer and donating his time.
The John Bzeta Children's Charity Auction will support another local children's charity at the 2023 CVSN Summit in Boston.