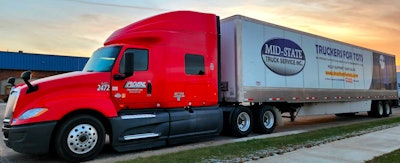 Mid-State Truck Service recently concluded its 14th year of supporting the Toys for Tots program with Truckers for Tots!
Mid-State Truck Service started Truckers for Tots 14 years ago to support the Toys for Tots mission of alleviating some financial stress of the holidays while making sure children have something to open on Christmas morning.
Along with their campaign sponsors: Roehl Transport, Furniture and ApplianceMart, Badger State Western, Purple Mountain Solutions, Fahrner Asphalt, Fahrner Excavating, Jentex, Rivers Edge Campground, Jeff Foster Trucking, Navistar Inc., Idealease of Central WI, and Cummins, Mid-State Truck Service aims to ensure everyone has a wonderful holiday.
The Truckers for Tots campaign has exceeded last year's donation of more than $55,000 of toys and this year contributed over $65,000 worth of new toys to the local communities that they serve.
Fleet Farm once again graciously opened up their stores to us and were the retailer for each shopping event which took place at five different locations the past couple of weeks.
Nov. 30 – Stevens Point, WI @ 5:00 p.m.
Dec. 1 – Marshfield, WI @ 5:00 p.m.
Dec. 6– Wausau, WI @ 3:00 p.m.
Dec. 7 – Chippewa, WI – @ 3:00 p.m.
Dec. 8 – Duluth, MN @ 5:00 p.m.
At each shopping event, the participating employee volunteers and community members overflowed their carts with toys which were then loaded into a semi-trailer and brought to the local Toys for Tots distribution centers, the dealership says.
Mid-State Truck Service would like to thank the Truckers for Tots campaign sponsors, donors and members of the communities they serve for continuing to show their generosity and commitment to their community. For more information on the Truckers for Tots campaign, find toy donation locations or to donate monetarily online, visit the company's website.