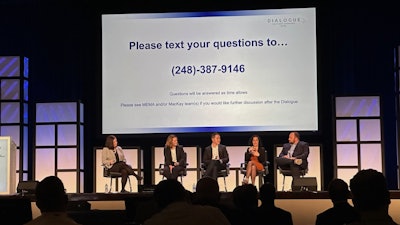 Before kicking off Heavy Duty Aftermarket Week 2023 on Monday night, trucking economists and aftermarket experts looked into a crystal ball Monday at Heavy Duty Aftermarket Dialogue, presented by MEMA and MacKay & Company.
The event, which was a day of presentations and panel discussions on all facets of the aftermarket, was themed resiliently transforming the future. In many ways, the future is already here.
The Heavy Duty Business Forum sponsored the day's first panel, Real World View, focused on what's happening on the ground with three aftermarket leaders. Collin Shaw, chief commercial vehicle officer at MEMA; Jeffery Porter, president and CEO of Velvac Inc.; and Kent Jones, president, Americas, of SAF-Holland Inc. participated.
Their concerns set the theme for most of the rest of the morning's presentations. All three leaders saw trends of electrification and automation shaking up the industry, which they see as being continuing to be plagued by inflation, labor shortages, supply chain problems and issues brought up by volatile geopolitical situations.
Giovanni Schelfi from Roland Berger was a walking example of that. Schefli said the past few years' uncertainty wasn't going anywhere and that the stability the industry enjoyed from 1970 until the early 2000s was gone for good. Uncertainty springing from the pandemic and global politics will last decades, Schelfi says. One example he points to is Chinese supply chain concentrations. It took 20 years to move the supply chain to China, he says, and it will take 20 years to move it back.
And though he prefaces it by saying that "forecasting has not been an easy job recently," drawing chuckles from around the ballroom, Schelfi said his firm was cautiously optimistic about 2023.
He foresees raw materials, particularly those for electric vehicle batteries, tightening up as demand soars by as much as six times by the end of the decade. Semiconductors will be hard to come by, too. Automotive in general, of which heavy-duty is counted as a part, is a small segment for the semiconductor industry, Schelfi says, and it's hard to serve. Automakers need to come up with new hardware and architecture to more closely resemble chips used in other products, such as electric vehicles and consumer electronics in order to increase access to semiconductors.
"This is a structural problem that cannot be solved," he says. "What the automotive market wants does not exist."
Demand for commercial vehicles will soften, Schelfi says, but the industry will maintain volume thanks to pent-up demand.
Brad Williamson, director of Daimler Trucks North America's parts marketing, was interviewed by John Blodgett, vice president of sales and marketing for MacKay & Company.
"Having access to data is great," Williamson says. "The power is being able to use it."
He says the pandemic made companies more efficient communicators, internally and externally, and it also emphasized the importance of caring about team members — which includes customers of all sizes.
"The biggest thing is caring about people. Just being there for them," Williamson said. "We had to become more partners (with dealers and suppliers)."
Williamson also sees e-commerce as a permanent part of doing business and one that has the potential to add to relationship-based sales and service.
"DTNA parts sees e-commerce as a major part of our marketplace," he says. "If we look at other areas of our consumer world, e-commerce is here to stay."
With the right resources, e-commerce can prove profitable for everyone involved.
"It's an investment, for sure," he says. "And it's an investment in the future."
Williamson also talked about proprietary software and data and its use in the aftermarket. Personally, he says that he sees sharing information as a good thing.
"The more we share information, the better chance you have to leverage that to your benefit," he says.
He sees the future in e-commerce, solid training for suppliers and distributors, and smarter inventory management.
[RELATED: Distributors talk employee retention techniques, e-commerce]
"We need to be good partners as much as we can," Williamson says. "Let's work together to smooth over volatility."
The leaders that will help form those partnerships were on the next panel. Emily Poladian, president of Bridgestone Mobility Solutions, Americas, moderated the emerging leadership panel. It features Julie Alfermann, director of central region sales for Allison Transmission; C.J. Biank, global market manager (networks), Grote Industries; Jack Chung, vice president of product management, Noregon Systems; and Tanya Miracle, director, OE truck/trailer for Bridgestone.
Each member of the panel started out talking about what drew them to the heavy-duty aftermarket industry. Trucking is a vital industry that makes a difference and Alfermann says that is motivating. Other panelists addressed the industry's accepting nature, and how talent in the sector is valued, accepted and appreciated.
The panel says those positive traits could be used to recruit the industry's next generation of talent..
Chung says what he's looking for in new hires are really data scientists who can analyze the myriad data coming in from vehicles and use it for research and development or route planning, and, looking ahead, predictive maintenance.
The panel also said that flexibility and other business practices that are put in place to attract more young people and more women to the aftermarket will also be good for everyone.
[RELATED: Solving your workforce challenges takes more than recruitment]
"What would be attractive to women is also more attractive to men," Alfermann says, pointing out she's in Dallas today because her husband's job gives him the flexibility to take over things like school pick-up and other chores. "It's OK to recognize you have a life outside of work."
She added to recruit women effectively, hiring managers need to make sure women are represented in their employment marketing, at conferences and on hiring panels.
"My challenge to the room is to make sure you have people on the hiring panel that will value her," Miracle says.
Hybrid and fully remote work also make companies more attractive to younger people. Chung says the key to successful team management post-pandemic is to make sure that expectations are fully and clearly communicated.
"At the end of the day, the important thing is that the task gets completed," he says, adding that his company uses technology such as Teams for communication and as a repository of institutional knowledge.
Miracle pointed out that, at many companies, sales teams have been remote "since forever," and that using what we already know from managing them to managing everyone else could help companies conquer their fear of remote or hybrid work.
"Agility and change is our friend," she says.