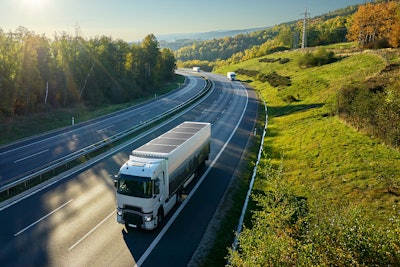 Velociti Inc. will now install and, if the customer selects it, maintain Stealth Power systems for fleet electrification.
"Demand for connectivity and electrification has increased exponentially and both organizations currently deliver progressive solutions," says Zac Graham, vice president of sales at Velociti. "Trucking fleets and construction equipment have seen a tremendous increase in the installation of alternative energy products in the past year. We expect installs to rise even further in 2023."
[RELATED: Velociti to install Merlin Solar]
Stealth Power's Vehicle Power System will run onboard equipment, auxiliary devices, is a power source for offboard equipment with the vehicle's engine turned off. The company also designs scalable solutions for remote applications. The Mobile Power System provides clean, reliable power for equipment such as wireless towers, mobile kitchens and clinics, military missions and disaster relief.
"Stealth Power's mission is to provide reliable mobile electric power systems that reduce fuel and maintenance costs while lowering carbon emissions," says Devin Scott, Stealth Power CEO. "This partnership with Velociti brings industry expertise and installation capabilities that enable us to meet the rapidly increasing market demand for our products."