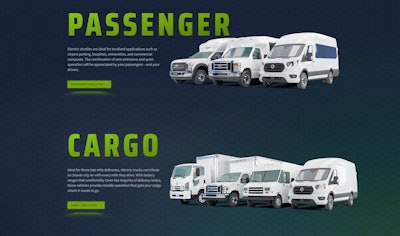 Lightning eMotors released a virtual Fleet Planner tool that allows fleet managers to input individual fleet characteristics and receive a customized operating cost analysis and carbon reduction metrics based on the Lightning electric vehicle that best fits their needs.
"One of the challenges facing fleets seeking to electrify is a lack of reliable information about how commercial EVs will perform under various conditions and how big an impact they will have on key metrics such as operating cost and carbon reduction," says Nick Bettis, vice president of marketing and sales operations at Lightning eMotors. "Our virtual Fleet Planner takes the guesswork out of vehicle selection and provides personalized and understandable EV information based on the fleet's unique needs."
Fleet managers can input:
The type of fleet they manage.
Route distances.
Payload or number of passengers.
Terrain type.
Average temperature.
Drive cycle and driver behavior.
Shift duration.
Charging opportunities.
Dwell time.
Using those inputs and more than five years of data collected by Lightning's telematics, the Fleet Planner displays recommended Lightning vehicles and the associated charge rates to fit the specific application.
"The level of detail fleet managers can see in our Fleet Planner is unprecedented in the market," says Brandon McNeil, vice president of Lightning Energy and Insights. "At Lightning, we have been putting Class 3-7, zero emission, fully electric fleet vehicles on the roads since 2018 and have amassed more than 3,000,000 EV miles. We have leveraged this arsenal of real-world data in the Fleet Planner, an easy-to-use tool that will be extremely compelling and useful for fleet managers who are considering fleet electrification."