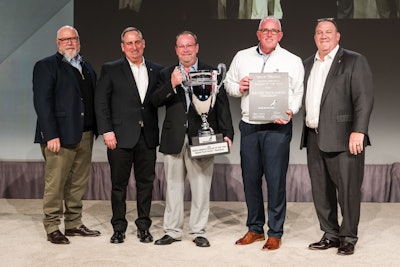 Ballard Truck Center of Tewksbury, Massachusetts, is the Mack Trucks 2022 North American Dealer of the Year. Mack named Ballard the winner during the recent Mack annual dealer meeting in Austin, Texas.
Mack presents the Dealer of the Year awards to dealers that exceed business targets for sales, parts and leasing, as well as those that continue to grow the business and score highly among customers for satisfaction.
"We're excited to announce Ballard Truck Center in Tewksbury as Mack Trucks North American Dealer of the Year," says Jonathan Randall, president of Mack Trucks North America. "They recently became the first Mack Certified Electric Vehicle Dealer in New England, and are an important partner in the region, selling and servicing the entire Mack portfolio. In addition to becoming certified for electric trucks in 2022, they grew their parts business in a challenging market and maintained their strong heavy-duty market share, earning the highest score of any dealer in the country in our scoring model."
[RELATED: Kenworth announces top dealers of 2022]
Ballard Truck Center has seven locations in Massachusetts, New Hampshire and Rhode Island.
Mack Trucks also named 2022 winners for its regional sales divisions:
Northeast Region: Ballard Truck Center, Tewksbury, Massachusetts
Southeast Region: Nextran Truck Centers, Orlando, Florida
Central Region: Housby Mack, Des Moines, Iowa
Southwest Region: Bruckner's Truck and Equipment, Amarillo, Texas
West Region: TEC Equipment, Portland, Oregon
Canada Region: Vision Truck Group, Stoney Creek, Ontario
Additionally, TEC Equipment of Portland, Oregon, was named U.S. Mack Financial Services Dealer of the Year and the Mack Leasing System Dealer of the Year. Nextran Truck Centers, Kansas City, Missouri, received the Mack Remarketing Dealer of the Year Award, and the Customer Satisfaction Dealer of the Year Award went to Interstate Truck Source of Romulus, Michigan. Vision Truck Group, Stoney Creek, Ontario was Mack Financial Services Canadian Dealer of the year.