FleetPride acquires two new distributors
FleetPride Inc. has announced the acquisition of Interstate Turbo Supply and McDowell Truck Parts.

FleetPride says the acquisition of Interstate Turbo supply in Commerce City, Colo. will provide a more diverse customer base, enhanced sales opportunities and an additional location to serve the needs of the heavy-duty parts industry in the Denver marketplace.
FleetPride also has added McDowell Truck Parts in Oswego, Ill.
FleetPride currently is operating in nearby Naperville and will merge these two locations into the McDowell facility.
FleetPride owns and operates 14 locations in Illinois.
PEOPLE IN THE NEWS
Following are personnel changes and announcements in the trucking industry:

* Webb Wheel Products has promoted Adam Wiechmann to engineering manager for the OEM Business Unit.
* Blue Tree Systems has announced Steve Katz has joined its North American division as director of sales for U.S. markets.
* Red Dot Corp has announced the hiring of Jeff Sybil as OEM account executive responsible for business development.

* Accuride Corporation has appointed Charles M. Byrnes to the post of senior vice president of sales and marketing and Scott D. Hazlett as senior vice president and general manager of its Accuride Wheels business unit.
* Nelson Global Products Inc. has announced the appointment of Randy Aylor as general manager of the company's aftermarket division.
* Meritor, Inc. has announced the appointment of John Clark as director of global brand management and marketing communications.
* Ancra International has promoted Ralph Abato to the new position of vice president of International Sales for its Cargo Systems Division.
* Phillips Industries has promoted two sales executives: Randy Walker to director of North American aftermarket sales and Ron Alvarez to director of global OEM/OES Sales.
CVSN introduces new officers
The CVSN has installed a new slate of officers and three new directors. The appointments were made at the CVSN Aftermarket Distribution Summit in Washington, D.C.
Marc Karon of Total Truck Parts in West Palm Beach, Fla. is the new president; Harry Amoroso of B&A Friction in San Jose, Calif. is vice president; Dave Willis of CRW Parts in Baltimore is treasurer; and Angelo Volpe of Jacksonville, Fla. is the CVSN executive vice president/secretary.
The three new directors installed were Tom Ogburn of Ogburn's Truck Parts in Fort Worth, Texas; Dave Olsen of Transaxle in Cinnaminson, N.J.; and Todd Manson of Webb Wheel Products in Cullman, Ala.
Inland Truck Parts opens store in Wyoming
Truck owners and the oil field industry in Wyoming now will have direct access to truck parts and remanufacturing services with the opening of a new Inland Truck Parts location in Evansville, Wyo.
According to Inland, the store will be managed by area residents Marshal Smouse and Greg Woodin, who together have more than 50 years of experience leading truck parts and remanufacturing operations in Evansville and surrounding communities near Casper.
"Marshal and Greg bring exceptional product and technical knowledge and a proven track record for great customer service. We're extremely excited they'll be managing our Evansville location," says Dave Scheer, president of Inland Truck Parts.
The Evansville store joins Inland Truck Parts' network of 27 stores across the Midwest, including locations in Billings, Mont., Scottsbluff, Neb. and Rapid City, S.D. The store is the first Inland location in Wyoming.
For the latest aftermarket news, announcements and trends, visit truckpartsandservice.com
Bendix CVS launches remanufacturing unit
Bendix Commercial Vehicle Systems LLC has introduced a new business unit solely focused on remanufacturing.

Bendix says its new unit consolidates the company's remanufacturing efforts and will expand its aftermarket business in North America and worldwide.
"Remanufacturing for Class 6, 7, 8 and trailers in North America accounted for $3.1 billion in 2010," says Steve Mance, Bendix vice president and general manager, charging group. "Remanufacturing offers long-term growth opportunities for Bendix. With our long-established expertise in remanufacturing and deep understanding of market needs, we are well-positioned to expand our efforts and realize the significant growth potential in this area.
"Furthermore, the remanufacturing business will provide customers an opportunity to purchase remanufactured products that have the same level of performance they have come to expect from a Bendix product."
By salvaging key components of returned products and reassembling them with other salvaged and new components, Bendix claims it can provide remanufactured products that meet OE specifications and ensure availability, even in peak demand years. And Bendix says engineers in the new business unit now can use components originally manufactured by other brands to bring remanufactured parts as close as possible to their OE specifications.
HDA Truck Pride adds American Truck Group
HDA Truck Pride announces the addition of American Truck Group in Gulfport, Miss.
American is an independent service provider, and will be added to HDA Truck Pride's Truck Service Expert program. The addition of American Truck Group broadens HDA Truck Pride's parts and service presence in the Gulf area.
With its parts warehouse, 16 repair bays and two wash bays, HDA Truck Pride says American operates 12 hours a day with additional 24-hour on-call assistance.
Power Heavy Duty adds members
Power Heavy Duty celebrates its 17th anniversary with the addition of 15 members to its supplier network.

The new associates bring Power Heavy Duty's total number of members to more than 200.
The new members are: AD Brakes, San Francisco; Alliance Trailer Service, Madison, Wis.; Axle Service and More, Inc., Napa and Vallejo, Calif.; Blue Hen Spring Works, Inc., Milford, Del.; Dayton Clutch & Joint, Inc., Dayton, Ohio; Deaton Truck & Tire, Inc., Rome, Cartersville and Carrollton, Ga.; Original Equipment Company, Belle Glade, Fla.; Plaza Truck Service & Equipment, Carlinville, Ill.; Rowe Truck Equipment, Otterbein, Ind.; SN Diesel Service, Concord, Ontario; Snyder Bros. Sales & Service, Inc., Coshocton, Ohio; Springs and Suspension, Inc., Conley, Ga.; Suffolk County Brake Service, Inc., Bohemia, N.Y.; and Truckco, Inc., Leesport, Pa.
Vipar Heavy Duty adds members to network
Vipar Heavy Duty has announced the addition of three new distributors to its heavy-duty network.
All Truck and Trailer Parts of Commerce City, Colo., Linehaul Heavy Duty LLC of Fairfield, Ohio and J&J Operating LLC of Dickinson, N.D. are the new members.
According to Vipar, All Truck and Trailer Parts serves the truck market throughout Colorado. Linehaul serves both on-highway and vocational customers in the metro Cincinnati, northern Kentucky, southeastern Indiana and western Ohio area, while J&J Operating focuses on western and northern North Dakota, the company says.
TransAxle shows APRA members 'green' reman facility
TransAxle hosted the APRA (Automotive Parts Remanufacturers Association) Heavy-Duty Transmission Conference at its Cinnaminson, N.J. plant.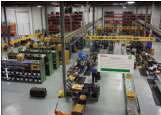 TransAxle also hosted a plant tour of its Cinnaminson location, where it had the opportunity to showcase its remanufacturing operations.
Dave Olson, TransAxle CEO, led the tour. During the tour, Olson was able to show the conference attendees TransAxle's remanufacturing and green capabilities.
"Our newest facility that's dedicated to remanufacturing Allison transmissions was built to 'green building standards,' like light sensors, low VOC paint, second life drywall and reclaimed lumber. So we are totally supportive of the green effort at every level," says John Ferry, TransAxle general manager of branch operations.
Accuride announces sale of subsidiary
Accuride Corporation has sold its subsidiary Fabco Automotive Corporation to Fabco Holdings Inc., a new company formed and capitalized by Wynnchurch Capital, Ltd. in partnership with Stone River Capital Partners, LLC.

Fabco produces a broad range of steer drive axles, transfer cases, split shaft PTOs and other specialty products for the commercial severe-duty industry, Accuride says.
"Throughout its history, Fabco has consistently engineered and brought to market innovative solution-providing products, establishing it as a well-respected brand name in the heavy-duty commercial vehicle industry," says Rick Dauch, Accuride president and CEO.