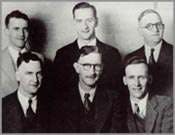 After seeing some of his customers close up in 2009, Andy Robblee, president of Six Robblees' Inc., says his business is starting to have some growing pains. "We have to add services, add people and add inventory as the market has started to come back," he says.
Communicating The Vision
Robblee has a clear vision of not only how he wants to deal with these current growing pains but for the business overall. His challenge is to communicate that vision to the other 170 people who work at Six Robblees.
"I [have to] communicate the direction I see the company needing to go in. I have to make the employees passionate about it so they can communicate back up stream and see that we want to go in this direction but we need to make a couple of changes. If we do this, I see opportunities for us."
The communication process can be encumbered by the geographic distance between the company's locations. "We have branches in Billings, Seattle, Oakland and Fairbanks," Robblee says. "So geographically the distance is huge, and the problem is you can't cover that distance in a short period of time."
Hiring & Training
Robblee believes that people are his most important asset.
"Often we hire people who are good, quality people with tons of ability but who might not know the particulars of our business," he says. Robblee says it can take many years to develop all the aspects of how to be a good counterperson, salesperson or manager.
Plus there has to be an understanding of customers, vendor relationships, employee-to-employee relationships and teamwork. "So training in all aspects is necessary," Robblee says.
"We all need refresher courses; we continually have to provide education and not get too confident that we got this last year and we are good for a while."
Robblee says he is fortunate to have a good team to help with training. "We have a very strong management team at the branches and in Seattle. There are many people working on different aspects of training, which is great because it gives us a constant reminder that we can't expect employees to know everything. We have to coach them, teach them, encourage them and be supportive of them," he says.
Weighing IT Solutions
Technology is important in every business and Six Robblees is no exception. "We live right in the heart of Microsoft country," Robblee says, "and we stick out like a sore thumb."
He is quick to add that he sees value in technology but does not feel the need to be on the bleeding edge as some other area businesses do. "We may be the bleeding follower. We weigh our IT options and see what the value is. What is the technology going to bring? What is there to gain and the reason for doing it?"
Currently Robblee is working on getting computers to his outside sales force. "I see value in a salesperson being at an account where a question comes up about the availability of an item and how much it costs. Rather than making a phone call, he can just type on his tablet or laptop and be able to give an answer."
Moving forward, Robblee says he plans to invest in projects where he can see gains and efficiency improvements, but it is going to be technologies that already have been tested a little bit.
"We are going to make sure the technology fits who we are and then stick with it," he says.
Six Robblees currently is using EDI to some extent. "We just transferred over to a new computer system and we are trying to get some of that back up to speed," he says.
The company also has started conversations with vendors about vendor managed inventory. "We learned what we need from our software to make that happen and that is something we will be pushing into more in the future," he says.
"In general, we are interested in anything that simplifies the [inventory] process."
All Or Nothing With New Products
New products get added most often if someone within the organization sees a reason they should be added. But suggestions also can come from vendor salespeople saying they see a potential for their product at Six Robblees. The impetus also may come from internal research or customers expressing a need.
"Basically it requires someone to champion it," Robblee says. "It needs someone to say 'I see potential in this' because there are a lot of hiccups along the way."
If there isn't someone willing to push through those obstacles, Robblee says the new product addition is going to stumble.
Once the decision has been made to take on a product, there is a process in place to ensure a smooth introduction. "We want to get everyone on board," he says. "A one man band is not going to make this work."
Robblee says the company has had several instances where a product was successful at only one or two branches. Over a longer term, he says, that product usually was not successful company-wide.
"It usually requires several branches to get us volume, to get it up to speed, keep it there and to keep us up to date with what is going on. If only one branch has knowledge, it is a bit tough for us as a company to make the product go."
As for removing products from inventory, Robblee says that is easier.
If a product has not had movement in a year, he questions why they are continuing to carry it. Before dropping the product, the company will look at factors that may be contributing to the drop in sales. "Are we not getting sales training? Are we not getting factory support? Are we not putting any effort into it? We look at all those things," he says.
Robblee reviews sales reports and can see quarterly data compared to prior year. "Then we can try to figure out what is going on if there is decline in sales. Is our price out of whack? Is it our competition getting more aggressive? Has the customer figured out another solution?
"These reports give us a heads-up about what products we need to start paying attention to and either cycle out or bring in the new updated model," he says.
Freshening Up Facilities
Six Robblees currently has an effort underway to dress up its show rooms. Earlier this year Robblee was at the Anchorage store and asked them to start some remodeling. "They did a fantastic job of freshening up the showroom," he says.
But then not long after the work was completed, Robblee got a call from another company looking to be acquired. "We did all this work on the branch, but then it looked like the best move for us was to [relocate] to this other facility."
However, he still is committed to improving the look of the showrooms while acknowledging the warehouses are in good shape. "We are about 50 percent there [with the showrooms], where we have some very nice looking showrooms, but we also have some that because of lack of space or lack of creativity still need to be dressed up to make them more of a sales tool," he says.
Robblee believes the showrooms can be used to display items customers might not know Six Robblees stocks, including accessory items like mirrors, load control devices and impulse items.
"When a person walks into your showroom, they are seeing what else you carry and then can see that you are the place they can come to for filters, lights or whatever," he says. "The showroom allows you to show off everything you have and also allows you to gain a little price bump for those accessory items where you are not on the street fighting price, price, price."
In addition to using its showroom to sell its products, Six Robblees relies on word of mouth.
"It is our salespeople going out and telling our story. We supplement that with flyers, catalogs and specials along with training by factory reps, but it really is our people going out face to face with customers telling our story," Robblee says.
Mastering The Basics
Robblee says it is critical for the company to execute well on business fundamentals. "You have to have someone who knows what they are doing and we have several. I feel I have a pretty decent grasp of it, but it is a challenge," he says.
During the 2009 downturn, he saw a significant drop in sales in the first four months. "I had to start to look at where we were going to trip and where we could get efficiencies."
He adds, "We survived the last four years very profitably and I think it came down to focusing on the fundamentals and not allowing us to get exuberant or go on a spending spree or jump into things that didn't make sense.
"Watching expenses, investing in the right opportunities is part of the challenge and something I enjoy."