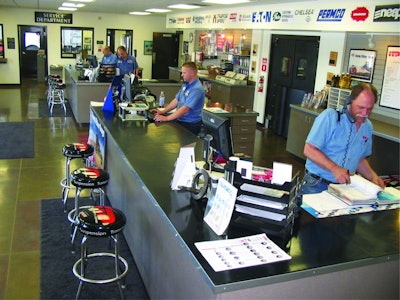 Today's aftermarket is a very different one than the one Dave Scheer, president and CEO, Inland Truck Parts Co. competed in when he was named Truck Parts & Service Distributor of the Year in 2002. One thing that hasn't changed is Scheer's desire to have Inland Truck Parts always strive to be its best.
Making Information Available
Information is a vital component in the company's success. Scheer is actively involved in trying to get Right To Repair legislation enacted, but his efforts do not stop there. Recently he assigned a staff member the task of making sure component information was available at the fingertips of all Inland employees.
"We are consolidating information into one knowledge database so that at the click of a button the user can get the information he needs about any component we sell," he says.
For example, if a customer calls about a differential, the system will prompt the counterman to ask the customer additional questions about ancillary items he might need such as gaskets, and to give technical information such as required torque specifications.
"We plan to have everything the inside or outside salesperson needs to do a complete job for the customer in our database," Scheer says.
He adds, "One of the main things we sell is the knowledge we have. When a customer calls us we need to provide knowledge and solutions for his product. We always have done this but now we need to leverage that electronically."
Laser Focus On Training
Training is so important at Inland Truck Parts that Scheer invested in having a training facility built. It will have six remanufacturing stations and work stands for differentials, manual transmissions and Allison automatic transmissions. There also will be two drive-in service bays and a driveline training areas.
"Technicians are difficult to find and we find them with different skill levels, so to enhance a person and improve his skill set you need to provide training."
However training does not just focus on improving technical skills. "We have a myriad of other people who are supervisors and managers who need soft skills training. How do you discipline? How do you communicate? How do you resolve conflict? We have provided and will continue soft skills training," Scheer says.
Leveraging Technology
To help improve overall efficiency and support the company's focus on providing complete information to its employees and customers, Inland is moving from a character-based software system to a graphical system. "This will ensure that we have the right computer software to grow and the capability and scale to meet the growing needs of our company," Scheer says.
Part of the impetus for the switch was that most manufacturers are no longer producing printed catalogs but rather are relying on electronic versions.
"Their information is on a website that has links, diagrams, photos and videos. You can't effectively use those with a character-based system but with a graphical user interface system you can," he says.
While Scheer believes Inland could have continued to use its current system for another 10 years, he felt the business would keep getting further behind. "We felt we had to invest in this system so we are prepared to provide customers the information they need moving forward."
He adds, "The software package that we are buying is not a canned system. It is an open system so we can implement what we want. Our philosophy is that we want our computer system to be a tool to augment or facilitate the way we want to do business. We don't want to shape the way we do business around the capabilities of our computer system."
Facilities Reflect Capabilities
Another area where Scheer has made an investment is in his company's facilities. "We are two-thirds of the way to be being done upgrading all our facilities. They are nice, well-lit, professional looking facilities. We look a lot like a dealership," Scheer says.
Professional looking facilities is only part of what Scheer is striving for in terms of the company's image. "It is a number of other things. It is our vehicles, it is the way our people look, the way they dress, the way they answer the phone, the way we interact with the customers."
Scheer says Inland has been working for the past 15 years on elevating its image in the marketplace. 'We have been in the situation where you had a dealer and an independent [in the same market] and the dealer always was perceived to be the best," he says.
"We wanted to do something to change the market perception of us as an independent to show we are as qualified as the dealer," he says.
Scheer recognizes that since customers are paying upwards of $100,000 for their vehicles, "they want to go to a place they believe is willing to invest in the tools and systems to correctly fix their vehicles. That is where we had to go.
"As trucks become more complex it become more difficult for anybody to work on them and we wanted to be in the position where we would be considered to be qualified and as good as the dealer."
Getting The Fundamentals Right
Given the competitive nature of the aftermarket, Scheer says it is important to make sure Inland does all the fundamental things correctly. "You have to buy right, you have to maximize your margins, you have to be efficient in the way you run your business," he says. "You can't have waste in staffing and expenses, or inefficiency in managing your business. You have to correctly manage your inventories."
One way the company manages its inventory is to involve the executive management team in the decision to carry a particular product or brand.
"A brand change would first go to the executive team to talk about why we prefer one brand over another and look at what they have to offer," he explains. "If it looks promising we take it to our managers and work with the vendor to develop a new product brand change implementation plan," he says.
"We look at how are we going to train our people, how we are going to market the product, what will be the vendor's role in the training, how much will we inventory?
"Then when we go to market with a new product we are equipped from a knowledge standpoint and from an inventory standpoint to sell the product effectively," Scheer says.
Decentralized Marketing
While Scheer sees his facilities and staff as part of the overall plan to market the business, Inland does other types of marketing as well. "We develop marketing plans by location. We have a decentralized model where we treat each store as an individual store that is serving in the market where it is located," he says.
This gives some autonomy within each market and recognizes that there are differences in the various markets that Inland serves. "Many things are similar from market to market, but also there are some differences. There are differences in timing for instance of when harvest is. If you are south harvest is at a different time than if you are north so that drives somewhat the marketing efforts for each store."
Each year each store manager develops a twofold marketing plan. A portion of it drives what is done operationally in the store and the other part is marketing and advertising. "The marketing agency will develop its side of the plan and the managers will develop the operational side. Then we marry the two together for an overall location business plan for the year," he says
Part of the plan includes open houses and working with vendors. "We will go to a vendor and ask if they would like to promote their products. It could be through clinics, assisted field visits or it could be messaging through print ads, billboards or radio," Scheer says.
Providing It All
Scheer believes that one of the things that sets Inland apart is all the different things it provides. "We provide parts of course, but we also do remanufacturing and we do drive-in service all in one facility. There are very few people like that," he says.
"You go to dealers and they do drive-in service, but they don't do reman. We can bring a person into one of our facilities and we can basically work on their vehicle from bumper to bumper. We have control of the entire process. We have all the parts available for them in the same facility. If they need a transmission rebuilt we have it right here in our own facility," Scheer says.
Providing it all is part of the company's commitment to customer service. "If we want to command the kinds of prices we do, we have to really make [the customer's] buying experience exceptional. We used to be able to differentiate ourselves by the products we carried, but that is not true anymore. So we have to do something else to make the buying experience unique and memorable and give the person a reason to come back."
The fact that since 2002 Inland has been 100 percent employee owned (the employee ownership process first began in 1982), also factors into its customer service focus, Scheer believes.
"Our employees are invested emotionally [it what happens here] because they have some skin in the game," he says.