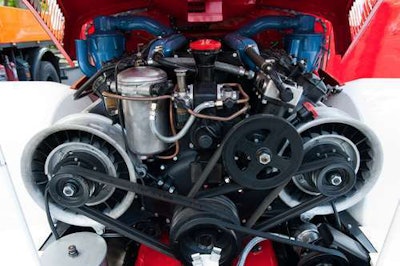 The list of questions buyers ask themselves when in the market for a new truck can seem endless, but most all questions will come back to two critical elements: horsepower and fuel economy.
Today's heavy-duty diesel engine evolution has settled on two basic displacement configurations: 13-liter and 15-liter, the larger of which led North American sales for many years. Lately, however, 13-liter engines have emerged as the overall market leader.
The 13-liter shift?
"We've been doing a lot of research on these engines lately, and we are seeing a shift away from 15-liter engines to 13 liters," Kevin Baney, chief engineer for Kenworth Trucks told the Commercial Carrier Journal. More line-haul customers are switching because of weight reduction and fuel economy benefits he added. "With our Paccar 13-liter MX engines today, we can offer them 385 horsepower all the way up to our 500-horsepower Cummins option, which will debut in January," he says. "Our broad horsepower range works for most customers."
Navistar saw the trend toward 13-liter power coming some years ago as customers became more focused on weight, payload and fuel efficiency, which Steve Gilligan, vice president of vocational and product marketing, drove the company in development of its MaxxForce 13.
"The added weight of emissions-related equipment and fluid is offset by the 13-liter engine," " Gilligan said.
Jennifer Rumsey, executive director of heavy-duty engineering for Cummins, notes that most of today's 13-liter engines actually are 12- to 13-liter engines. While engines in this class have displacements ranging from 11.9 to 13 liters, 13-liter and 15-liter displacements fill different needs within the Class 8 truck market, she says.
"The older thinking was to buy a larger engine and run it easy – it'll get good fuel efficiency and last forever," says David McKenna, powertrain sales and marketing manager for Mack Trucks. "There is a perception that bigger is better for a long-life engine – I strongly disagree…Correct engine sizing is the base from which to optimize performance," he says. "If you start from the wrong base, nothing else you do will be correct, and maximum optimization will never be achieved."
Ed Saxman, drivetrain product manager for Volvo Trucks, says Volvo had a 12-liter engine that it increased to 13 liters due to power density so that the top rating could be increased to a full 500 horsepower with 1750 lb.-ft. of torque and also introduced their 11- and 16-liter engines to be able to offer additional lighter-weight and higher power options.
Thanks to some fairly aggressive technological and engineering advancement, trucks are seeing better fuel economy without sacrificing horsepower.
"What you're seeing more in more, in terms of engine technology, is a smaller-displacement, lighter-weight and more efficient engine delivering the same level of horsepower that was only achieved in the past with a 15-liter engine," he says. "Average horsepower has shifted only slightly over the past 10 years. The same fleets that were running 430-horsepower engines a few years ago may have shifted peak horsepower upward, but torque is relatively unchanged and is well within the efficient operating range of 13-liter engines."
In Volvo's case, the average delivered horsepower of the 13-liter engine in its tractors has been slightly higher than the average horsepower of the 15-liter supplier engine that it delivers. The same was true for their 12-liter, which preceded the 13-liter.
Trading power for fuel?
Some fleets still prefer large-displacement engines for a variety of reasons, and there still are a large number of applications that depend on them to get their work done.
Larger-displacement engines remain popular for a variety of reasons, Baney says. "For a long time, the residual value on the back end of a 15-liter engine remained very strong," he says. "You simply could get more money for them on the used truck market, but we're starting to see that change as well because 13-liter engines have carved out a niche for themselves in the horsepower 'sweet spot' that fleets desire."
However, 15-liter engines can push up into the mid-500 horsepower range. "That's an attractive proposition for fleets in vocational applications," Baney says. "Each displacement is in a 'sweet spot' of its own."
While 12- to 13-liter engines are stretched to their mechanical and thermal limits, larger-displacement 15-liter engines have increased capacity and margin relative to cylinder pressure capability and mechanical and thermal limits, Rumsey says. "Additionally, lower power density may enable a simpler engine platform or may provide the flexibility to optimize the engine and engine subsystems to achieve the best blend of desired performance, fuel economy and emissions characteristics."
Larger-displacement engines also can offer improved drivability. Despite the recent market shift, 15-liter engines remain an attractive option for long-haul fleets due to performance and fuel economy, stronger clutch engagement and better braking horsepower.
"While we've made some strong inroads with customers and convinced them that their needs can be met by a 13-liter engine, there's still a legitimate need and demand for 15-liter power – especially with higher-horsepower users," says Gilligan, explaining Navistar's reason for relaunching the Cummins ISX15 in its ProStar+, with plans to offer the engine soon in both its 9900 and PayStar tractors.
Making the right choice
Fleets considering moving either up or down in terms of engine displacement need to review their operational history before making a decision.
Looking at the engine's Logged Vehicle Data can tell a lot about how it is performing relative to the work required and if there's too much or not enough power on hand. "It can tell you if there's extremely high demand for power at very low vehicle speeds," McKenna says. "Likewise, you can learn if there's lower power demand at higher vehicle speeds."
Despite the 13-liter's reputation for fuel economy, Rumsey is adamant that modern larger-displacement engines can compete in the fuel economy arena with their smaller siblings. "For equivalent ratings, a higher-displacement engine has more flexibility, allowing it to achieve greater fuel economy," she says.
Bore and stroke optimization, valve size and turbo efficiency are all components of optimizing fuel economy. "At the same time, horsepower and torque offerings typically increase with engine displacement because the mechanical limits of an engine are reached as power density increases," says Rumsey. "A higher-displacement engine provides the flexibility for optimal gearing, allowing the engine to operate at lower engine speeds at cruise – which also translates into good fuel economy."