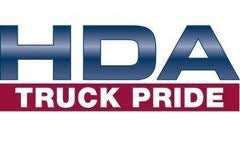 If you want to get your company's name out there, you promote your brand.
That was the topic of the marketing and business session at HDA Truck Pride's annual meeting Thursday in Orlando.
In only its third year as the consolidated HDA Truck Pride, the group is working diligently to promote its brand nationwide, and is requesting its members to do the same.
"HDA Truck Pride wants to make its business the most important brand in the heavy-duty aftermarket," Tina Alread, director of sales and marketing, told members during Thursday's meeting. "We are asking our distributors to embrace our brand in your business."
By using its member network to promote HDA Truck Pride, Alread says the business can build brand recognition much faster than it would if promoting the business solely from its company headquarters.
"Our members have to embrace our brand before we push it out to the industry," she says.
Thursday's marketing session also featured presentations by Kelly Dier of Marmon Highway Technologies, Marc Karon of CVSN and Bob Sundwick of Northwood University.
As the keynote speaker, Dier spoke about what Marmon has done to become a successful player in the commercial truck market – and how important the aftermarket has been in that growth. Dier says nearly one third of Marmon's yearly revenue comes from the aftermarket.
He also warned the distributors in attendance to be prepared for change in the marketplace. Dier says no one can predict change; future business success will be determined by how businesses respond to change.
Karon's presentation was a call to action for aftermarket businesses to join CVSN and assist the organization in the Right to Repair discussion. Karon says there is a possibility future state and national laws could exclude the heavy-duty aftermarket from Right to Repair laws. He says that could cripple the independent parts and service market.
"If we don't get something, we will be marginalized out of this industry and eventually disappear," he says.
Sundwick's opening presentation briefed HDA Truck Pride's members on Northwood University's history and its unique aftermarket program. Northwood has created an undergraduate and graduate aftermarket curriculum that offers students the chance to learn from professors who spent a career in their specific area of study.
The school has automotive and heavy-duty aftermarket courses, and Sundwick says Northwood offers scholarships to bring students into the industry.
"We need young blood and diversity in this industry," says Don Reimondo, CEO at HDA Truck Pride and Northwood alum.