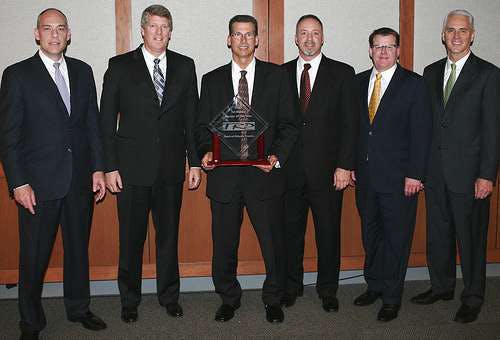 Kenworth named CIT Group, Inc., its 2012 TRP All-Makes Kenworth Dealer of the Year for superior support for TRP parts and service.
"One of the strengths of the TRP brand is our nationwide network of dealer retailers whom they can trust to support them in the TRP parts choices they make," Darrin Siver, PACCAR vice president and PACCAR Parts general manager, says. "CIT Group has demonstrated that it is among the best at supporting customers in their TRP parts and service needs."
CIT Group, Inc. operates 10 Kenworth locations serving the state of Illinois, parts of Missouri and Northwest Indiana.
From dump trucks to cement mixers, delivery vans to tractor-trailers, school buses to transit buses of any age, TRP offers quality replacement parts designed and tested to exceed customers' expectations.
"The complexity of trucks and their components requires dealers to provide training for their employees and to equip them with the latest in technology," Gary Moore, Kenworth general manager and PACCAR vice president, says. "(CIT made) significant investments in their facilities to provide outstanding parts and service support to ensure that customers get their trucks serviced quickly and correctly."