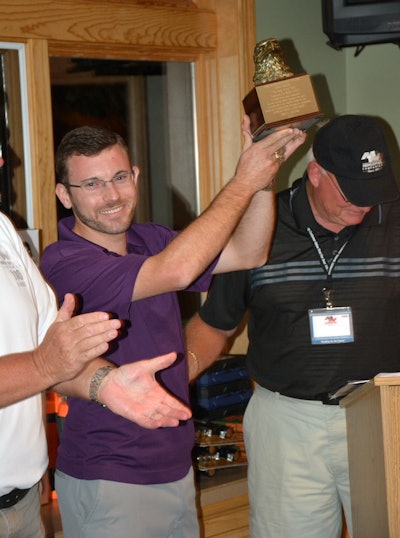 Midwest Wheel Companies has announced Nick Tosie of Remy International as the recipient of its 22nd annual Don Shoemaker/Scott Wilson Sales Professional of the Year Award.
The award was presented to Tosie by John Minor, president and chief operating officer of Midwest Wheel Companies during a ceremony at the Des Moines Legacy Golf Club as a part of the company's 37th annual sales meeting.
Tosie joined Remy International as a regional sales/service manager assigned to the Midwestern region in 2012. Midwest Wheel says Tosie is one of the youngest individuals to receive this award, and represents the highest level of customer support in the heavy duty industry.
Judging for the annual award is conducted by Midwest Wheel's branch managers, sales professionals and product managers. The honor is awarded on the basis of meeting a number of criteria including: proven loyalty, adherence to policies, exemplary professional conduct, demonstrated product/industry knowledge, professional selling skills and the consistent display of respect and courteousness throughout their business dealings, the company says.