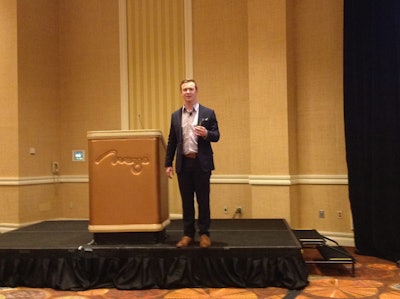 Information overload is real and it can be detrimental to your business, says an expert on communication.
Curt Steinhorst, founder and president of Promentum Group, told a Heavy Duty Aftermarket Week (HDAW) 2016 audience Wednesday that keeping up with too many emails, texts, social media sites, and really too much information in general, can prove too overwhelming and keep you from doing your best.
"We're wired to send and receive social information," he explained. "We're wired to want to do this."
Steinhorst explained that keeping up with the latest messages releases dopamine in the brain, a chemical that stimulates pleasure and keeps you coming back for more and more.
The problem is that getting too much information during the day can lead to confusion, memory loss and then a loss in productivity.
Steinhorst recommends a mandatory downtime from tech—an important time that not only entails unplugging, but having some private time alone.
Information access has grown 400 percent since the mid-1980s, said Steinhorst, who's in his thirties and considers himself part of the digital generation.
While being mindful of knowing when to say when, businesses also need to respect how millennials like Steinhorst like to stay in touch, which is primarily through electronic communication.
Other consequences of staying too connected include having less social time which can also negatively impact business. Some people would rather have more face-to-face time than communicating impersonally through a computer.
The temptation, Steinhorst points out, is that it's often easier to communicate electronically than in-person.
"Face to face communication can be really emotionally exhausting," he said. "Digital gives us control. We're always going to move towards digital because it's easier."
Better hurry on getting unplugged more often. Steinhorst reports that the average attention span has dropped 50 percent the last 10 years to just eight seconds. That's not so hot when you consider that the attention span of a goldfish is actually better at nine seconds.