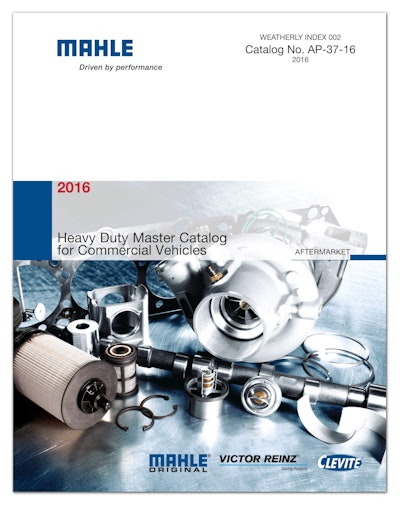 MAHLE Aftermarket Inc., has released its 2016 comprehensive catalog for commercial heavy-duty vehicle applications in the United States, Mexico and Canada. The catalog all the company's product offerings in one resource.
"This year's catalog was designed to allow users to easily find parts for OE-to-MAHLE interchanges taking place anywhere in the vehicle, one-for-one," says Jon Douglas, general manager, MAHLE Aftermarket North America. "It makes finding the part you need remarkably straightforward."
MAHLE says the catalog features Navistar products, expanded coverage for MAN and Scania, and new thermostat coverage. The front portion of the catalog is written in English, French and Spanish.
"The expansion to our heavy duty catalog speaks to our commitment to provide our commercial customers with the widest variety of aftermarket parts possible," adds Douglas . "Our continually-expanding selection is one of the keys to MAHLE's role as a leading North American aftermarket parts provider."
The catalog can be downloaded in PDF format on the MAHLE Aftermarket website, and also is available online at catalog.mahle-aftermarket.com/na, where the application can be searched by product, vehicle make and engine, the company says.