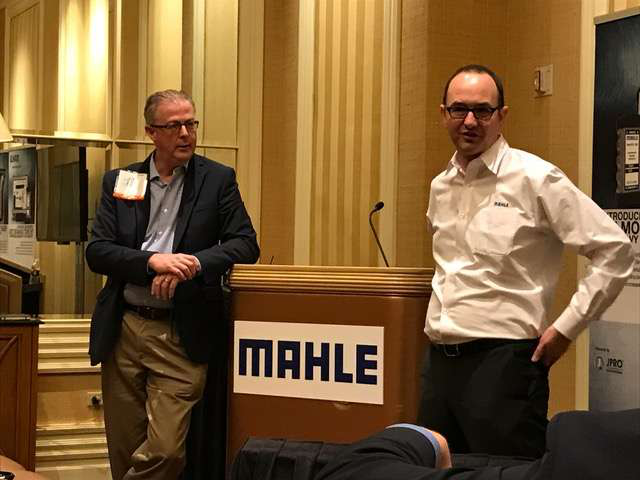 MAHLE Service Solutions announced new partnerships with Gray and Noregon Wednesday at Heavy Duty Aftermarket Week (HDAW) in Las Vegas.
The company says the partnerships will strengthen its product portfolio of tools and equipment for the heavy duty aftermarket.
Under the agreement with Gray, the company will produce a full-line of shop equipment for MAHLE Service Solutions under the banner "MAHLE manufactured by Gray."
Gray Manufacturing Company, Inc. has been designing, manufacturing and selling lifting equipment since 1952. MAHLE Service Solutions will begin selling the Gray manufactured equipment, which includes stands, floor jacks, vehicle lifts, fluid collection systems and other equipment, at the time of the American Trucking Association's TMC (Technology and Maintenance Council) Show in late February 2017.
"We are very excited about this partnership," said Gray Manufacturing President Stet Schanze.
"We believe this will be very valuable for both companies."
MAHLE Service Solutions General Manager Andreas Huber said the addition of lift equipment "only makes sense" as part of the company's efforts to become a single source provider for its customers.
MAHLE will also collaborate with Noregon to introduce a new in-shop diagnostic and repair solution called TechPRO HD powered by JPRO. Founded in 1993, Noregon is a leading vehicle diagnostics solutions supplier to the commercial vehicle industry.
MAHLE Service Solutions previously introduced the TechPRO diagnostic scan tool to the automotive aftermarket for automotive technicians and is now expanding into the heavy duty aftermarket.
According to Terry Taylor, MAHLE's head of sales, the two agreements will allow the company to provide medium and heavy duty customers with a greater selection of tool and equipment solutions to meet their needs.
"MAHLE Service Solutions and our new partners recognized significant synergies in our mutual commitment to quality, customer focus and long-term planning," Taylor said.
"These shared organizational characteristics led to partnerships that will deliver the tools and equipment so the modern service provider can effectively address the needs of its customers."
Taylor said that with the existing distribution, field sales and service organization MAHLE Service Solutions already has in place, all customers will benefit from greater access to a complete product portfolio and expanded service network.
"MAHLE has a very similar vision to us and we look forward to working within this partnership" said Shane Gilliam, Noregon's vice president of sales.
Huber said the complexity of vehicles, particularly in the heavy duty segment, and the company's desire to integrate its parts and service capabilities made the partnership ideal.
"We found two companies that we can partner with. That's a huge change and we are really excited about it," Huber said.
"The most important thing for our customers is uptime. If we can provide a one-stop solution with reliable products that's very important. Now, we can offer an even larger network. It's thrilling and something really unique for us."