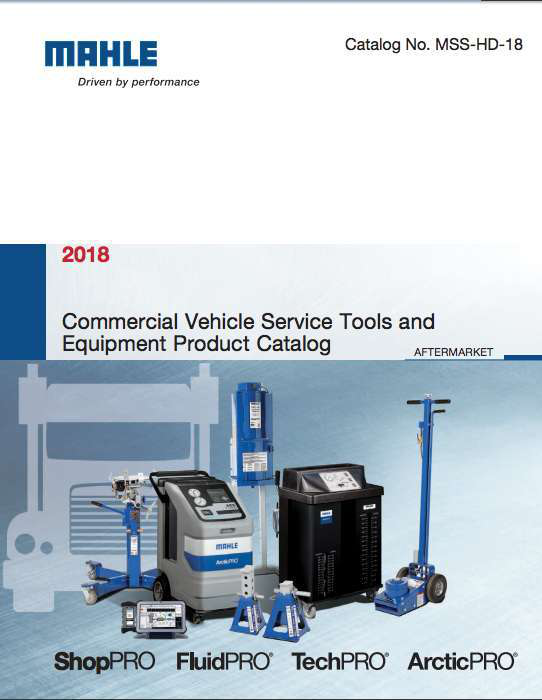 MAHLE Service Solutions has introduced its 2018 Commercial Vehicle Service Tool and Equipment Product catalog (No. MSS-HD-18).
Published for the first time, MAHLE says the new catalog highlights the company's full portfolio of heavy-duty products and includes product information on its ShopPRO, TechPRO HD, ArcticPRO and FluidPRO line of products for the heavy-duty aftermarket.
"Our new catalog demonstrates the strategic efforts we've undergone to broaden the MAHLE Service Solutions product portfolio of tools and equipment for the U.S. medium- and heavy-duty aftermarket," says Andreas Huber, general manager, MAHLE Service Solutions. "We added the products our customers requested and are now able to support them with a complete portfolio of tools and equipment for commercial vehicle service and repair."
MAHLE Service Solutions partnered with Gray Manufacturing in 2017 to offer ShopPRO – a full line of the highest quality hydraulic and pneumatic equipment for the commercial vehicle market that includes: air lifts, axle jacks, component lifts, engine stands, fluid handling, forklift jacks, service jacks, shop cranes, shop presses, support stands, vehicle lifts and wheel service equipment.
Additionally, the company says the TechPRO Commercial Diagnostic System (VDS1000HD) from MAHLE Service Solutions, powered by JPRO, provides the heavy-duty market with the ability to analyze, diagnose and repair commercial vehicles. The catalog also features information on the ArcticPRO ACX1180C that offers OEM-level heavy duty A/C servicing with superior system performance that produces faster service times and higher service accuracy, MAHLE says.
Finally, the company adds the catalog contains complete specifications on four service machines in the company's FluidPRO line of fluid exchange systems.
The catalog is available for download directly at the MAHLE Service Solutions website.