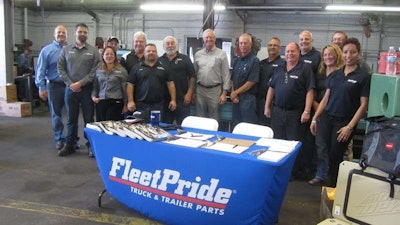 FleetPride opened its newly renovated store at 1801 N. Black Canyon Hwy., in Phoenix, with a recent open house. The event hosted more than 150 customers, who received a tour of the location and met FleetPride's vendor partners. One lucky customer also won a Yeti Cooler.
"We are very proud of our team in Phoenix, with three branches in the market, and customer turnout for the event was excellent," says Mike Harris, senior vice president of sales and branch operations at FleetPride.
According to FleetPride, the updated location now features a service shop that provides a full line of hydraulic services to complement the company's regular assortment of parts and services like flywheels, driveline, and transmission assembly.
"We continue to invest in our mobile power capabilities," says Harris. "Our Phoenix branch already provides a wide range of shop services, including complete driveline repair, flywheels, and hydraulic hose fabrication, to name a few. With the shop expansion, we can offer customers in the Phoenix market a wide variety of hydraulic solutions.
"The grand opening highlighted our new hydraulic shop services for bench testing cylinders and pumps, building custom pumps, cylinder repairs, and a broad assortment of PTO kits and related parts."