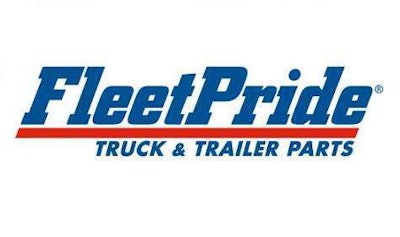 FleetPride is pooling its resources to up its customer service game.
Next month the company will introduce Fleet Pride Brain Exchange, an internal training platform that uses the knowledge and expertise of the company's workforce to produce regular training materials and best practices to strengthen the distributor's national customer service performance.
"As a company, we believe we can compete with any competitor on price, footprint and breadth of products in the aftermarket, but we know customer decisions aren't only based on those areas," says Cindy von Hagel, FleetPride manager of sales training and development. "Customer service also can be a major differentiator in the market."
von Hagel says the development of Brain Exchange has been several months in the making, and was initially spurred by her desire to leverage the expertise of FleetPride's employees when building a new customer service training program.
"A lot of people learn best when they learn from their peers, people they trust," she says. "I realized we could use that."
She says FleetPride Brain Exchange has multiple features, but its main resource is a unique take on a Q&A segment with the company's senior customer service professionals. The program works as follows, von Hagel says: Every four weeks a new question regarding customer service is posed to a dozen subject matter experts within the national distributor chain; each expert records an audio response to the question; and each week, three of these dozen responses are made available through the company's online internal newsletter; after four weeks and all dozen responses have been made available, a new question is posed and the cycle repeats with new responders.
This information is then supported by internal training processes that are relevant to the responses (or were built from the responses), as well as other training documents FleetPride has compiled that relate back to the question of the week.
When Brain Exchange debuts next month, von Hagel says the first question posed will be 'How would you improve customer service at FleetPride?' von Hagel says among the dozen responders to that first question include multiple FleetPride sales veterans, branch managers, a corporate human resources employee and CEO Al Dragone. (Read FleetPride Director of Wholesale Sales Justin Pasdach's answer HERE.)
"When I first asked people to come in and do the recordings I didn't know what they would think of it," von Hagel says. "We have a lot of people who know a lot about [customer service] and are so passionate about it, but we've never done something like this before."
She says those concerns were immediately assuaged, as colleagues not only accepted the invitation, but threw themselves into their responses. The result is a new resource the entire company is eager to use.
"There are a lot of people who really want to help make the business a success, and because of their input into what is important to them, this could be an incredible success. We cannot wait to see it come out," von Hagel says.
One thing she's confident about is the program's takeaways. Brain Exchange will allow FleetPride employees to share customer service knowledge at an incredible rate.
"We want to make [customer service] top of mind when talking with a customer. We want employees to think about all of the things they need to think about it to make a customer experience a good one," says von Hagel.