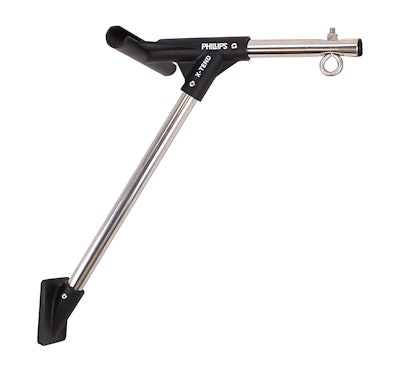 Phillips Industries has released its X-Tend tracker bar extension designed to prevent scuffs and marring on the back of the cab from swinging cables.
According to Phillips, the new product extends the tracker spring kit and cables out an additional 8 in. from the tracker bar, with a total of 12 in. away from the back of the cab. The additional space keeps cables from knocking against the back of the cab, preventing surface damage.
The X-Tend requires minimal effort to install and is available at a fraction of the cost of similar systems on the market, according to the company. The nylon support bracket rests up against the back of the cab eliminating the need for installation hardware.
Additionally, a soft cushion of foam gasket padding on the back of the bracket prevents damage to the cab's surface. Phillips says the mounting bracket and support bracket are made of non-corrosive materials, and the metal tubing and eye hook are constructed of stainless steel for durability and corrosion resistance.
Phillips says the X-Tend is designed for use with tracker bars with a 3/4 in. diameter, and can be installed on tractors with a solid metal back or with windows with a metal frame down the center of the cab. It's available at Phillips' exclusive distributors throughout North America.