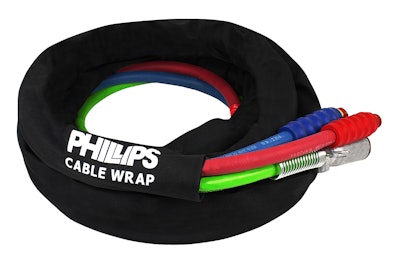 Phillips Industries Thursday introduced new nylon cable wraps for 3-in-1 combination air and electrical assemblies.
Phillips says the wraps are a convenient alternative to spiral wrap, making it easy to assemble and build custom combination assemblies.
The cable wraps are made of durable woven nylon for protection against damage due to harsh weather conditions, chaffing, rubbing and tangling; and are simple to remove for maintenance, cable replacement or DOT inspections. Phillips says they are available in 8, 10, 12 and 16 ft. lengths to accommodate 3-in-1 combination assemblies with varying lengths between 12 ft. and 20 ft.