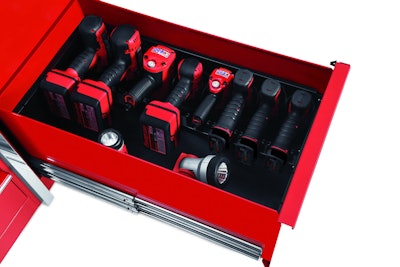 Snap-on introduces its Masters Series Roll Cab, featuring an integrated PowerDrawer for rechargeable tools and devices.
Available for the first time, Snap-on says Masters Series Roll Cabs will offer a five-outlet, two-USB port power strip in a dedicated PowerDrawer for charging power tool batteries, cell phones, tablets and more.
"Shops and techs need power sources now more than ever to keep tools and devices running throughout the day. Snap-on listened to its customers and is now including a charging option in our Masters Series Roll Cabs, and a host of other products," says Scott Amundson, a Snap-on Tools product manager. "As nearby and handy as a drawer in your tool storage box, the PowerDrawer makes it easy and convenient to power through the day without losing work time searching for additional wall outlets."
Snap-on says the KMP1163 Masters Series Roll Cabs are the latest addition to the company's storage options to offer charging capabilities, and come in a variety of configurations and colors.