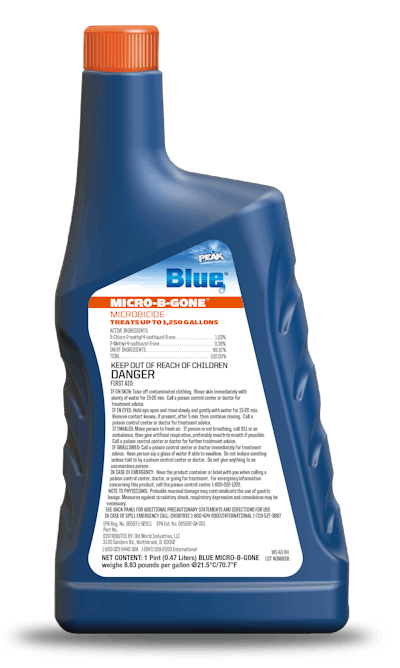 Old World Industries LLC introduces its diesel fuel system treatment Blue Micro-B-Gone.
Since the diesel industry moved to Ultra Low Sulfur Diesel a few years ago, Old World says more water is dropping out of the fuel and accumulating at the bottom of diesel tanks. Water has also made its way in through leaks, cracks and from condensation on the side of the fuel tanks. If left unchecked, these harmful microbes can create fuel contaminants causing plugged fuel filters and corrosion throughout the entire fuel system, the company says.
According to Old World, Blue Micro-B-Gone has been proven to kill bacteria and fungus in as quickly as six hours, and it is effective against microbes for 60 days or maybe longer depending on fuel system turnover after initial treatment.
"It is important to protect critical engine parts and equipment, and after 15 years of working in the diesel industry, I can proudly state this is one of the most effective biocides you will find in the market today," says Steven DeWaard, DFA business unit manager at Old World Industries.
Designed in 16 oz. and 32 oz. bottles, Old World says one 32 oz. bottle will treat 2,500 gallons of diesel fuel. The official launch date for Blue Micro-B-Gone is January 31, 2018.