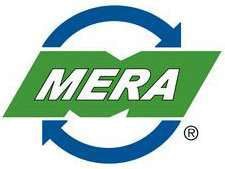 MERA – The Remanufacturing Association, representing a broad network of members, has announced governance changes and additions to its board of directors.
David Overbeeke, president and CEO, Brake Parts Inc, was elected as the new MERA chairman. Overbeeke is charged with steering MERA initiatives and enhancing member value in 2018 – while also positioning the association for future growth. As a former vice chairman of MERA, Overbeeke assumes responsibilities from Peter Butterfield, chairman and CEO, Omega Environmental Technologies. Butterfield served as MERA chairman for two years, from 2016 through 2017, and will remain on the MERA Board and as a member of its Executive Committee, MERA says.
"I am joined by the entire MERA community in thanking Peter Butterfield for his commitment and service to the remanufacturing industry as MERA chairman for the past two years," says John Chalifoux, president and COO, MERA. "Under Peter's leadership, the association successfully launched the Manufactured Again Certification program, issued an industry-first publication on the accounting of cores, protected remanufacturing from harmful legislative and regulatory efforts, and expanded its services to all remanufacturing sectors. We value Peter's service and look forward to working with David Overbeeke to build on our recent successes."
MERA also elected two long-serving board members to its executive committee: Sanjiv Khurana, president, Detroit Diesel Remanufacturing LLC; and Andreea Raaber, vice president, business development, Bendix Commercial Vehicle Systems LLC. Khurana and Raaber take on key duties in shaping the future of MERA, the association says.
In addition, the association also welcomes three well-respected industry leaders to the MERA board of directors, each with terms and responsibilities starting in January 2018. The new directors are: Justin Greenberg, CEO, DieselCore LLC; David Olsen, CEO, Transaxle LLC; and, Russ Schinzing, president, Electronics Remanufacturing Company LLC. MERA says each industry veteran brings valuable experience to the MERA board of directors, including varied backgrounds in core supply, heavy equipment remanufacturing and electronic component remanufacturing, respectively.
"Along with congratulating Sanjiv Khurana and Andreea Raaber on their election to the MERA Executive Committee, I believe our newest directors will help usher in a new era for MERA," says Chalifoux. "It is an exciting time for the remanufacturing industry, and these changes will keep MERA well-positioned to advance the business interests of our members."
The remainder of the MERA board of directors is comprised of: Michael Cardone III, executive chairman, CARDONE Industries, Inc.; John Chalifoux, president and COO, MERA; Steve Handschuh, president and CEO, MEMA; Selwyn Joffe, chairman, president and CEO, Motorcar Parts of America, Inc.; Woody Knopf, CEO, Knopf Automotive LLC; Enrico Manuele, regional vice president, automotive aftermarket, Robert Bosch LLC; Scott Miller, vice president, remanufacturing, LKQ Corporation; Paul Schuck, managing director, Undercar Express LLC; and, Shawn Zwicker, global operations leader, remanufacturing, Cummins, Inc.