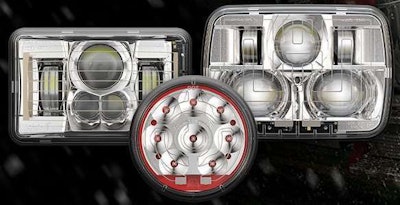 J.W. Speaker introduces new LED headlamps featuring the company's SmartHeat Series technology.
According to the company, SmartHeat technology is engineered to de-ice headlights, work lights and taillights for over-the-road trucks, snowplows, refuse trucks, construction equipment, delivery vans and any other heavy-duty vehicle that needs to operate in the winter, covering forward, rear and task lighting.
The heated LED lighting lineup is designed to facilitate brighter, whiter and longer-lasting LED lighting while using less power than halogen lighting systems. All lights in the series are street-legal and support U.S. Department of Transportation, Transport Canada ECE and military standards and requirements, the company says.