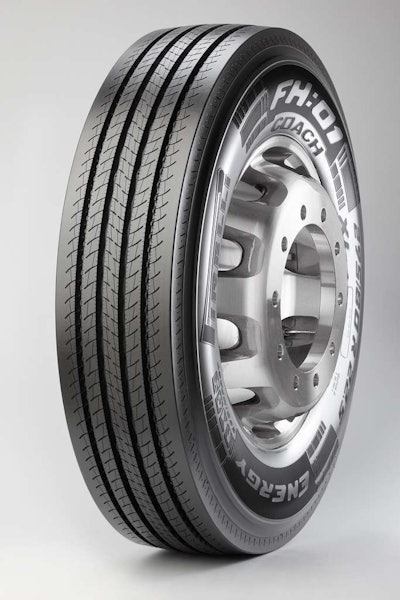 TP Commercial Solutions, LLC, is launching the FH:01 MotorCoach tire for long-haul and regional all position applications geared towards the motor coach market, as part of the H:01 tire family under the Pirelli Brand of Radial Truck Tires, Agricultural Tires and Off-The Road Tires in the US and Canada.
The company says the FH:01 MotorCoach is an all position tire designed for the demanding bus fleet market. An optimized tread pattern promotes steering precision and grip on wet and dry surfaces; as well as low rolling resistance, lower noise and a longer tread life.
A Pirelli patented innovative shoulder tread contour allows even distribution of pressure, ultimately resulting in even wear and high mileage. As part of Pirelli's Spiral Advanced Technology for Truck (SATT), the three sandwich belts evolution utilized in this tire design helps extend the tire's life cycle, handling and retreadability. Hexa Bead Wire has been added to make the tire more flexible for easy mounting. Finally, the fully rubberized cord for the belts prevent oxidation and ensures a longer casing life, the company says.
"The FH:01 Motor Coach tire tested extremely well. Bolstered by the Pirelli brands innovative materials and technologies such as SATT and a Dual Layer Tread Compound, its key product features are durability and a smooth, comfortable ride," says Clif Armstrong, president of TP Commercial Solutions LLC.