The following comes from the May 2017 issue of Truck Parts & Service. To read a digital version of the magazine, please click the image below.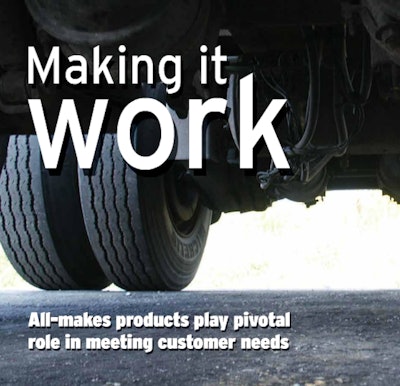 The aftermarket continues to be vital to the operating success and viability of fleets and their parts supplier partners.
Warehouse distributors, dealers, fleets and owner-operators are constantly being squeezed at every turn to increase margins, while at the same time, reducing costs. Truck owners, many of whom have trucks on the road for years at a time, are often focused on quality replacement parts availability and overall lifecycle costs when looking for replacement parts. They also want a supply distribution channel with product support and, more than ever, vehicle owners demand greater before-and-after-the-sale support.
Over the years, suppliers have managed to offer smart new business and supply practices to keep up to speed with the fast-changing market climate. One tactic that's paid dividends for aftermarket suppliers are all-makes parts brands, which add speed to repairs and drive parts sales into stores.
The all-makes concept has evolved and opened new resources for fleets to find parts and new opportunities for suppliers.
Today's distributors serve more markets, offer more services and support more applications than ever before. It's not practical for any warehouse to maintain an inventory of every single OEM replacement part.
When suppliers implement the concept of all-makes parts, end users can enjoy the benefits of 'one-stop shopping,' while dealers and distributors can streamline inventory and capture more business regardless of a fleet's brand make-up.
Bendix, for example, has offered a variety of all-makes products in the past, and two years ago launched All-Makes by Bendix CVS. Within the All-Makes by Bendix CVS line, the company offers compressors — the largest segment of the portfolio — along with valves and cartridges. The compressor line has expanded to include more than 100 part numbers.
"The addition of All-Makes by Bendix CVS enabled us to further expand our remanufacturing capabilities beyond our core products into product categories that may have a limited number of dependable solutions," says Henry Foxx, director of Remanufactured Products at Bendix.
"Bendix entered the all-makes category to provide our distribution partners with a reliable offering for specific product categories from a single source. And, our customers have confidence in our all-makes products because they've had a good experience with Genuine Bendix products."
In particular, second- and third-vehicle owners are turning to all-makes parts due to pricing advantages. All-makes parts undergo many of the same rigorous lab tests that OE parts require, but generally cost less.
"As the vehicle ages, owners continue to look for cost-effective ways to maintain desired performance," Foxx says.
"[All-makes] parts give the customer a value-based product from a reputable manufacturer with a longstanding his-tory of providing quality and service. Customers can feel reassured that the product they've purchased met their budgetary needs without sacrificing quality or performance."
Walt Sherbourne, vice president of marketing for Dayton Parts, says there is a market that demands all-makes parts."There is a customer base for the third and fourth owners," Sherbourne says. "The second, third and, especially the fourth owners, don't really go back to the dealer anymore. Usually, they are looking for parts that are not quite as costly."
Sherbourne credits the evolution of the all-makes product to the increased life cycle of today's vehicles. As trucks perform longer, more and more products are needed to meet a fleet's needs in keeping those vehicles on the road.
The increased longevity and demands needed to service today's fleets forces suppliers and distributors to add to their product offering.
"You can't just have bits and pieces," Sherbourne says. "Distributors are look-ing to have everything that a tech needs to do a particular job. They need to be able to offer everything needed to complete that job, so all the parts can be purchased from a single source."
Dayco's director of U.S. sales, Richard Crotzer, says providing all-makes products that make the end user's job easier is a key component as well.
Dayco has developed a series of online tools and videos to help customers know when belts need to be replaced, while also offering all product line recommendations.
"We want to help them find the part they need and make it easier on them," Crotzer says.
Sherbourne echoes those sentiments.
"We received a great deal of feedback about the importance of making the installation process easier for the installer," he says. "We have to make it easier for the end user so that it's not frustrating for the installer."
Another key component in the growth of all-makes parts has been the expanded use of the internet to purchase parts.
More fleet operators have become comfortable with shopping and buying their parts on the internet and often go online to make comparisons. Whether looking for parts availability or learning and training tools, online information continues to play a greater role in the aftermarket.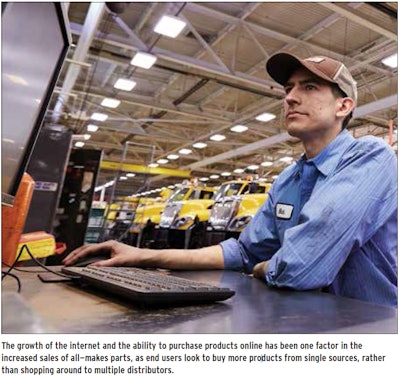 "With the internet becoming a more important aspect, we are seeing the market change where folks are buying online," Sherbourne says. "As they do, they are often looking for several parts from one source."
Many suppliers have developed online catalogs and ordering systems featuring OE and all-makes product lines where customers can place orders, check product availability and much more. Dealers and independent shops have access to this information as well, allowing them to see instances where an all-makes product would be a proper sell.
"That has made a tremendous difference," Crotzer says. "That's why we have developed our app and created several ways that customers can look up their parts on our website."
The proliferation of all-makes parts also has impacted how software providers develop products for the trucking industry. Kristy LaPage, business manager for Mitchell 1's commercial vehicle group, says providing access to all-makes repair information is important to technicians and the customers they serve.
"In the past, shops were doing extreme work around trying to diagnose is-sues and to locate parts," she says. "About 11 years ago, we developed the software to diagnose issues in just seconds. It works with all-makes, all models."
LaPage says "time is money" and the quicker a truck can leave the garage, the quicker it can be put back to work.
Mitchell 1's program diagnoses issues on trucks from model year 1990 to present, complete with estimated repair times and a list of all-makes parts that could al-low for the quick completion of a repair.
"It's important that it functions with all-make products because it allows technicians in any shop that uses this soft-ware to work with almost any customer and help them quickly get back on the road," LaPage says.
Just as with the price of the product, the age of the truck should not be the sole factor in determining what type of part to use in a repair.
Fleet managers try to maximize uptime at the lowest prices with the least amount of risk. They can con-sider the age of the vehicle, trade cycle, performance of the part, quality of the manufacturer and many other aspects in finding the right part.
During the truck life cycle, the definition of the value changes. First or second replacements may value highest quality while later life cycle owners may prioritize lower price as the vehicle ages.
"Everything changes after the vehicle rolls off the assembly line," Sherbourne says. "Having quality tested all-makes parts available is invaluable to fleet owners, especially to the second and third owners."