The following comes from the May 2017 issue of Truck Parts & Service. To read a digital version of the magazine, please click the image below.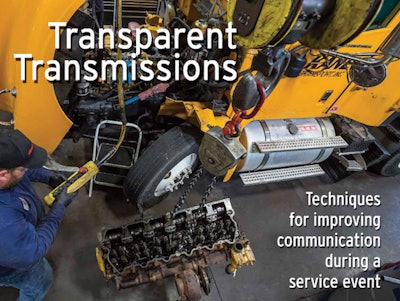 Keeping a customer informed during a repair is an important task for any service shop. Customers become anxious when they aren't provided regular updates on their vehicles, and in the case of larger repairs, there's only so much a service technician can do before a customer's approval is necessary.
To keep a shop humming and wrenches turning at near peak efficiency, service providers can develop simple, repeatable processes for transparent communication that informs and alerts vehicle owners to service event progress and moves each repair order toward conclusion.
Pre-service communication
A practical service event transparency plan begins long before a truck enters a bay. The first meeting between a customer and service provider, especially with new customers, should feature the latter asking the former questions to learn how they would prefer to communicate in the future.
Presented during active discussion or as part of informational documents new customers are required to complete, these probing questions provide a service provider with multiple methods of contact information, preferences for when and how that information is used and financial barriers where repairs must be individually approved.
The goal is to acquire enough information up front that future periods of phone tag and waiting-based downtime are greatly reduced, if not removed entirely.
Failing to do so is a headache for both parties, says Mike Payne, director of Continuous Improvement at Velocity Vehicle Group, and co-chair of the Technology & Maintenance Council's (TMC) 'Service Event Data Transparency' task force.
Looking at the service industry as a whole, Payne says, "Sometimes we don't know or we don't ask [how to communicate]. We get caught up and forget. Then their preference is email but we end up calling and we're on hold for an hour."
"You never want to be sitting there just waiting," adds Tim Grabow, vice president of operations at Blaine Brothers.
Pre-service conversations also have expectation-related value, says Blaine Brothers' President Dean Dally.
"Each customer is different in their expectations for a repair, both for communication and price," he says. "With new customers, that's a big challenge for our shop supervisors."
Dally says Blaine Brothers has a detailed presentation it uses with new customers to describe a customer's repair order, with thorough pricing explanations and a completion date estimate.
The presentations also are transcribed, which Dally says creates a reference point for both parties if questions arise during a repair.
"It is very, very important that our customers know exactly what we're doing," he says.
But pre-bay work should not be limited to first-time customers. Regulars also should be periodically quizzed about contact information and parameters to make sure their data is current. And when changes are made, everyone in the service shop needs to know.
Grabow says Blaine Brothers uses a customer database to track its customers' preferences. In cases where a customer profile requires an update, the facility receiving the update notifies the company's other locations so their individual databases can also be changed.
Another transparency tactic paying dividends in the aftermarket is data presentation. By tracking repair performance over time, service centers can determine realistic expectations for future work from their own internal data. When provided to customers, this information substantiates estimates and assuages customer stress.
The approach has become a key tenet in building customer relationships for Fairfield Auto & Truck Service, says CFO and COO Chris Sterwerf.
"It's sort of like our batting average for the shop. It shows how we're doing and where we're besting our performances each year," he says. "[Customers] seem to like to see that information because many people aren't doing it. "They like that you know and have a pulse of your shop."
Maximize technology
Service providers also can leverage available technology to better achieve transparency.
The days of loose-leaf invoices and repair notes written on yellow legal pads are waning, if not gone. Today's service event management software for independent and OE dealer shops allows for exhaustive service event data tracking, and can be programmed to distribute detailed updates to customers throughout a repair.
These updates can be set to transmit data automatically or be managed by a service professional. They can include images, documents and text, and can be sent via email or SMS message. How much information is sent, and when, is determined by the parties involved.
Sterwerf says Fairfield Auto & Truck Service has instructed its software to send automatic status updates at pre-determined points in a service event, as well as specified customer-requested times. The messaging strategy has been well received, and has cut down on the number of occurrences where a customer calls in requesting more information.
"We used to have a website where customers could plug in a number and see the status of their repair. We have since found that being more proactive and pushing that information to them works a lot better," he says.
In fact, removing customer calls into a service center was the genesis of TMC's 'Service Event Data Transparency' task force, says Kenneth Calhoun, vice president of Customer Relations at Truck Centers of Arkansas.
Calhoun says the idea for the task force was first broached by a fleet representative during a meeting of TMC's Service Provider study group—which Calhoun chaired—earlier this decade. Calhoun says the fleet's request was TMC develop a recommended practice (RP) service providers could use to better forward service event data to vehicle owners so the latter wouldn't be forced to call.
A task force was formed to accept the challenge, and in the years since, Payne, co-chair and DP Solutions President Bruce Love and a large group of industry volunteers have worked to build a RP to help meet this customer need. Written as a blueprint for service and fleet management systems to connect and transmit data, Love says the document is hopefully just months from approval.
"We've had good collaboration from the industry, and I think when we're done we'll have a solid RP," he says.
As a service event solutions provider, Decisiv participated in the development of the proposed RP and is eager to see it used, says Michael Riemer, vice president of Product and Channel Marketing. Riemer believes transparency issues in the service channel exist not because of a lack of information, but because of improper proliferation and organization of data that is already being produced.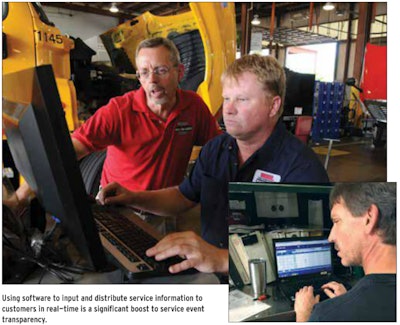 He says any effort by the industry through TMC or individually by software companies will improve the service communication experience for all involved.
"If there is a level of transparency that exists throughout the channel, that eliminates a lot of the stress, headaches and frustrations that impact people," he says.
Be adaptable
Transparency isn't achieved by maintain-ing the status quo. As customer expectations change, so must service provider habits and processes.
Calhoun acknowledges it's hard. Updating customer intake processes requires project planning and development. Employee training. Performance monitoring and follow-up reporting. It's a daunting task.
But attempting to maintain a customer base without evolution is nearly impossible.
"We will always have to fight that battle—feeling way too busy to find a more effective and efficient way to do business," Calhoun says. "But I think the [service providers] who are truly trying to grow their businesses understand that change is about driving out waste."
Riemer agrees.
"I think people are recognizing that there needs to be change. As for their propensity to adopt new processes? That's a different question," he says. "Change is hard. I know some guys in the market who have been doing everything the same way for 25 years."
At Blaine Brothers, Grabow says his team tries to evolve based on customer requests. He references a recent trend among customers to request images during service as one area where the company has changed. Since those requests became commonplace, Grabow says Blaine Brothers now regularly photographs trucks during repairs and automatically inputs those images into their system — ready to be transmitted in a moment's notice if asked.
"We want to meet their expectations and get their information to them right away," he says.
The good thing about transparency, Love says, is it benefits everyone. And it's a whole lot easier to change when the benefits are universal.
"I think overall everybody wants to see this process improve," he says. "It's a difficult process to improve because there are a lot of moving parts. But that's the bottom line."