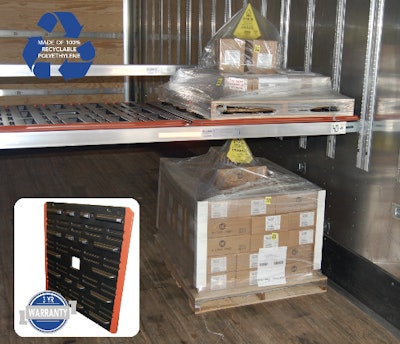 Ancra International introduces its Poly Deckboards to replace plywood boards found in most loading docks.
Ancra says its new boards are 50 percent lighter than typical plywood and made with convenient hand slots providing better ergonomics for dock workers and allowing for better load optimization. The boards also are splinter proof and built with high-density polyethylene, which allows them excellent low temperature performance, down to -40°F.
Manufactured for Lift-A-Deck II Systems or Standard E Beams and used on 16 in. or 24 in. beam centers, Ancra's Poly Deckboards can be easily moved from the convenient nesting design for stackable storage to create a second deck for cargo support that is resistant to moisture and adverse weather conditions, reducing your cost by extending service life and reducing purchase frequency, the company adds.
Additionally, Ancra says the boards come with a 3-year warranty, and can work with the company's new Vers-A-Deck system.