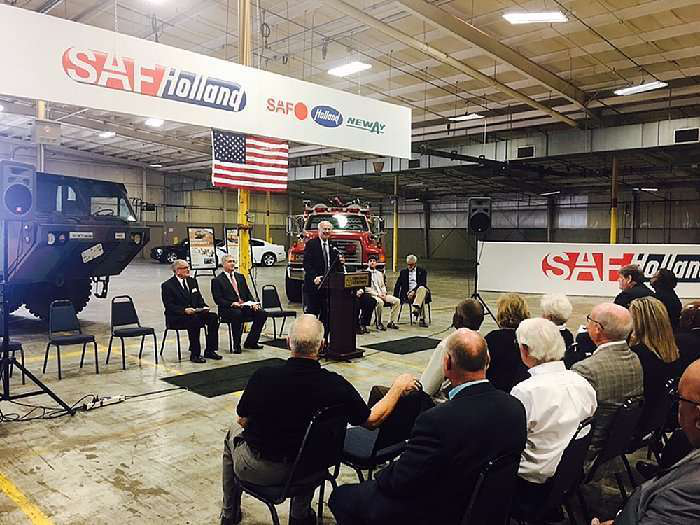 SAF-Holland is expanding its operations in Dumas, Ark., the company announced Friday.
As part of the expansion, the company will open a new facility in the old Federal-Mogul building to accommodate increased business with current customers.
"Our investment in Dumas will enable SAF-Holland to expand the North American business as we prepare for increasing market demand also in the mid-term," says Bjoern Meyer, vice president, Operations, Americas. "It allows SAF-Holland closer proximity to our OEM customers and enhances our level of service to our distributors and fleet customers. Ultimately, the location provides a means to expand our distribution network to not only support existing customers but result in additional customers."
SAF-Holland says the expansion of the Dumas operations takes place in the overall context of the ongoing restructuring of the North American plant network. The production network is currently being centralized and placed geographically closer to the customer base of the trailer and truck industry in order to strengthen long-term competitiveness. Furthermore, the internal logistics processes are being optimized to improve lead-time responsiveness, the company says.
SAF-Holland has increased its Dumas staff by over 40 percent, creating 60 new jobs to date with plans to end up at approximately 65 total new positions. As budgeted SAF-Holland says it will invest approximately $4 million in the facility for additional manufacturing/warehousing space, paint line, robotic welding cells, and other new technology and equipment thus stepping up the group's capacities in axle and suspension systems in the Americas region.
"We appreciate the continued confidence SAF-Holland has in our workforce that led to this expansion," says Arkansas Governor Asa Hutchinson. "The jobs being created are the advanced manufacturing jobs that spur economic development and raise the quality of life for employees and their families."
SAF-Holland currently employs 143 in Dumas where it manufactures trailer suspension and axle systems for commercial vehicles including Wabash National and Great Dane trailers, the company says.
"We are excited to watch SAF-Holland grow and succeed in Dumas," adds Mayor Johnny Brigham. "The company has been a valued member of our business community for years, and the investment they are making in their facility here speaks volumes about the relationships they have here."
The Dumas facility has been producing trailer suspensions in its current location since 1988. SAF-Holland has seen continuous growth in the facility and is planning for future growth.
"By expanding, we are developing our employees and resources to prepare for future worldwide market opportunities," says Charles Swopes – Dumas Facility Plant Manager.