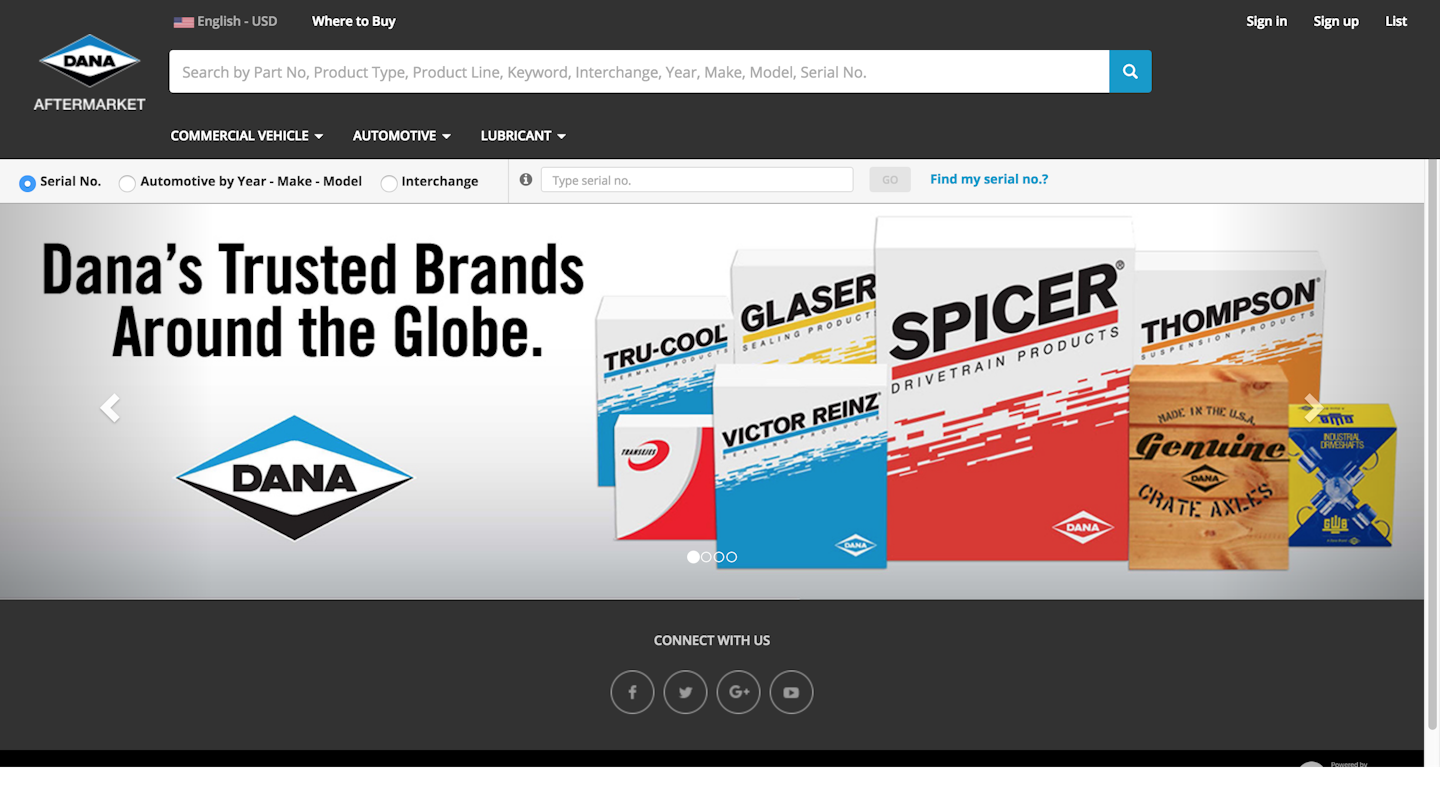 Dana Incorporated on Tuesday revealed enhancements to its e-catalog and e-commerce platform, as well as a new seal installation tool kit, which the company is showcasing alongside its market-leading heavy-duty Spicer universal joints, at Heavy Duty Aftermarket Week (HDAW) 2018 in Las Vegas.
Since launching its DanaAftermarket.com e-catalog and e-commerce platform at HDAW last year, the company has added many upgrades and enhancements to improve the customer experience by enabling a real-time, direct connection between Dana's customers and its product brands. The site currently features more than 50,000 parts, and plans are in place to double that total during the calendar year.
"Dana continually looks for opportunities to improve our customers' interaction with our aftermarket products," says Peter Cirulis, vice president of customer experience, strategy, and product planning for the Dana Aftermarket. "We made these latest enhancements to maximize the functionality and convenience of DanaAftermarket.com, allowing our customers to easily search our extensive online product catalog, check availability, and purchase through the best real-time, web-based experience possible."
The new mobile-ready design makes the buying process easy from any mobile device. In real-time, DanaAftermarket.com provides unprecedented access to parts, including product images, descriptions, and informational videos. Customers can quickly search for parts, check availability, and review their order status. They are also able to receive instant notifications of order status via confirmation emails and text message notifications. Further, with direct connectivity to FedEx, UPS, and other freight companies, they can track their delivery all the way to their front door or dock, the company says.
Furthermore, for added convenience, the website offers consumer-price-quote request feature allows Dana distributors to instantly bid on orders submitted by the general public, while its live customer-service enhancement creates a direct connection between customers and Dana representatives for immediate response to questions and feedback.
New seal installation tool kit
Dana also on Tuesday introduced its new Spicer seal installation tool kit, which provides precise tools to ensure the job is done right the first time, every time. The all-inclusive kit features an extensive collection of color-coded tools, an easy-to-understand tool selection chart, and installation instructions and tips that can be used on the most
common Spicer axle models, the company says. It is on display at booth #605 this week.