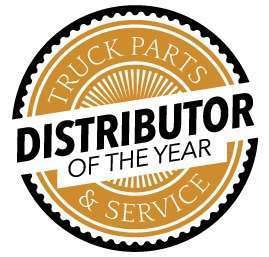 Yep, it's that time of year again.
Beginning today, Truck Parts & Service is once again accepting nominations for our Distributor of the Year award.
Sponsored by Interstate Billing, Meritor and Minimizer, the Distributor of the Year award is presented to a distributor who exemplifies excellent customer service, product knowledge and willingness to improve and evolve their business with industry changes. All North American distributors except last year's winner Harman Heavy Vehicle Specialists is eligible for this year's award, and we encourage the entire aftermarket and trucking industry at large to nominate the aftermarket distributors you believe are most deserving of our unique industry award.
Nominating a distributor is simple and easy. You can click below or the logo above right to access the nomination form. Once there, all we ask for is your name, the name of the distributor you would like to nominate and why you believe they are deserving of this recognition. That's it, we take it from there.
CLICK HERE TO NOMINATE A DISTRIBUTOR FOR OUR 2018 AWARD!
Also important to note, you can nominate up to three distributors at any one time, and distributors are allowed to nominate their own businesses if they believe they are deserving. Ultimately we accept the five businesses with the most nominations as our finalists, profiling each company on this website and in the pages of Truck Parts & Service before announcing our winner at Heavy Duty Aftermarket Week in Las Vegas.
So please, don't delay. Nominate the aftermarket's best today!