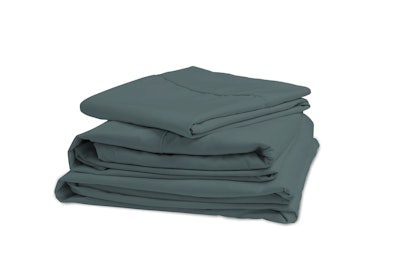 Lippert Components Inc., has introduced a line of quality, adjustable sheet sets that are designed to securely fit the wider, longer mattresses commonly found in Class 8 sleeper cabins, according to an announcement.
The somnum adjustable twin XL sheet sets are made from ultra-soft brushed microfiber providing a luxurious feel at an affordable price. A unique drawstring, integrated into the fitted sheet, promotes a snug fit for unconventional mattress sizes and shapes, up to 42 in. wide. As part of the somnum Sleeper Series mattress and accessories line, these sheets were designed by LCI to address driver complaints about the lack of suitable, commercially available bedding accessories that fit a sleeper mattress.
"In most every conversation we have with truck drivers, they mention that they can't find sheets that fit their sleeper mattress. We've designed this product to address the common issues drivers have with standard bedding," explains Mike Padrnos, business development manager at LCI.
In many cases, truck drivers have to purchase sheet sets that are too large in order to accommodate the length of a sleeper mattress. The somnum adjustable fitted sheet cinches to the actual size (width and length) of the mattress, helping it stay in place without excess sheet material needing to be knotted, folded or tucked away under the corner of the bed.
The somnum adjustable twin XL sheet sets include:
one extra-large top sheet
one adjustable bottom sheet with an integrated drawstring
two standard pillowcases
The sheets sets are available through all Freightliner and Western Star as well as select somnum distributors.