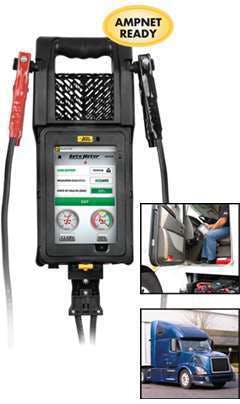 Auto Meter products introduces a new handheld touchscreen tablet electrical system analyzer, the BCT-460.
According to Auto Meter, the new system analyzer can be used to perform a preventive maintenance test. If a truck is not reporting an electrical system problem, the PM test quickly identify if the battery bank, starter, alternator, and cables are in proper working order. If no problems are found, the test can be completed in less than two minutes.
If problems are found, Auto Meter says the BCT-460 will direct the user to the appropriate next steps to diagnose and locate the cause of the problem.
The company says the BCT-460 can test 6- and 12-volt batteries, 12- and 24-volt charging systems, and, in addition to the PM test, can perform a full electrical system test similar to RP-129B. It features a 7 in. touchscreen and is WiFi enabled for automatic data collection.