The following comes from the May 2018 issue of Truck Parts & Service. To read a digital version of the magazine, please click the image below.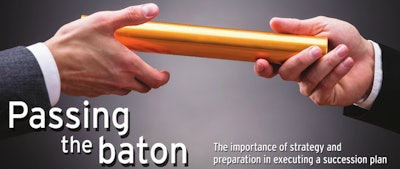 The independent distributor population is a greying group. Truck Parts & Service breaks the news
of an aftermarket distributor consolidation almost monthly and the number of business leaders within five years of retirement significantly overshadows the number who entered the market in the last decade.
Regardless of one's age, part of running a business is acknowledging the fleeting nature of the job. Eventually everyone exits. With that in mind, it is important for all business owners to invest time early in their careers considering what they want for their business when they depart from it.
How do you want to exit?
This question begets many others. Do you want to sell your business or just retire? Do you want to sell to a successor or are you looking for the highest bidder? What do you want for the future of the company you built and led?
Ensuring the long-term success of one's company begins by answering these questions.
Terry and Lee Resnick, partners at Resnick & Associates, an estate planning and business succession firm, say it is never too soon for business owners to consider their exit from their operation. Retirement planning for business owners is dependent on a direct and profitable exit from their business. A business owner who neglects to prepare for his exit can put his business, retirement and his employees' futures at risk, the Resnicks say.
In a small business industry such as the aftermarket, most business owners have three options when exiting their business: to sell the company to a successor, typically a family member or manager; to sell the business to their employees through an employee stock ownership plan, or ESOP; or to sell the business to an unaffiliated third party.
The Resnicks say the questions and exit options above are useful because they help paint a mental picture of an ideal exit scenario for a business owner. They force an owner to think about the end of their career and allow them to work backward from that point to formulate an exit and/or succession plan.
And because the questions posed earlier can be addressed at any time, the Resnicks advise clients to be proactive and develop skeletal exit strategies — featuring contingency plans to support family members in case of a tragedy — well before they actually plan to retire.
Preemptive exit and succession planning also can generate business growth, as Allan Parrott has learned as president at Tidewater Fleet Supply. Still in his early 50s, Parrott says he started thinking about his retirement nearly a decade ago when he realized his company's growth outpaced his capability for investment.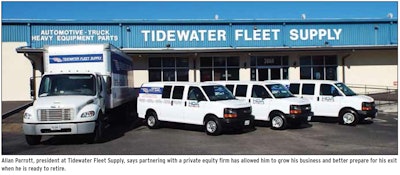 "We had a business that was growing, but in order for us to keep up with that growth I was having to put more and more of my net worth into the business," he says. "I was concerned if something ever happened to me or the business that it could take my family down."
Parrott researched his options and eventually partnered with an outside investment firm that has provided Tidewater Fleet Supply needed capital to expand while also lessening his requirement for personal investment. Parrott says he isn't planning to get out of the business any time soon, but he now feels better about that process when it one day comes.
The Resnicks add that such a proactive approach is particularly valuable with regard to succession planning because it provides a framework to be built upon when a successor is determined.
The brothers add a successful succession financial plan should feature detailed instructions in several key areas, such as the operational actions required to maximize the value of the company before the sale, the purchasing plan that will be used for the sale, the strategy to acquire liquidity to enable the successor to purchase the company, and the methods that will be used to minimize the tax burden to the buyer and seller after the sale.
"If you fail to address every issue, it can lead to costly mistakes," Terry Resnick says. "We have seen children frozen out of a business" because of the absence of an updated financial succession plan by their parent.
Additionally, in cases where a business has more than one owner, it is vital that owners work together to ensure their exit plans are written with the same goal in mind.
Bill Ryan, CEO at Point Spring & Driveshaft, bought out the second family with an ownership stake in Point Spring last year, and is now working to finalize a retirement plan for himself that will allow him to exit the business. His son Sean ascended to the president's chair in 2017 and is managing the company's day-to-day operations. Yet even with those responsibilities off his plate, Bill Ryan says the transfer of ownership has been draining. "There is so much you have to do to make sure you have each of your ducks in a row," he says.
Groom your successor
Though it's not as mentally grueling as the aforementioned tasks, preparing a successor is likely the most time-consuming aspect of a succession plan. Selling a business is an exhaustive process, but it's also one with clear parameters and a defined conclusion.
Conversely, there's no obvious identifier business owners can use to know when a successor is ready. The decision to pass the baton is much more intuitive.
In many family businesses, fostering successors can occur organically.
Mike Betts, chairman and CEO at Betts Company, says he started educating his kids on his family's business decades before they were ever involved. Betts says he would bring his children to work when they were young as a way to show them his work and share with them the history of the 150-year-old Betts Company. He says he wasn't trying to groom a successor so much as show his children that if one day they wanted to come to work with dad "for real," they would understand the business they would be joining.
Bill Betts, Mike's son and now president at Betts Company, says he appreciates the way his father showcased the business.
"There was never any pressure that 'This is the five-generation family business and one day we expect you to work here.' It was more of a curiosity," he says. "If we wanted to learn more about the business and see the cool things that were happening there, he would show us."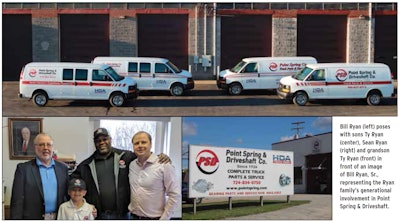 Sean Ryan didn't feel any pressure from his family, either.
"It was almost an absence of pressure," he says. "So much so that I had to sit him down at one point and tell him, 'I want to work for you.'"
At Midwest Heavy Duty, President Troy Zurbuchen says he remembers first talking to his father about his retirement and succession plan in the early 2000s. In the years that followed, his father educated him on the inner workings of their business and his responsibilities. Zurbuchen says he entered into the training eager and prepared, but was still blown away by the job and everything his father did.
"You can take all the courses, have all the accreditation and accolades and look great on paper, but until you really hit the field of play and understand all positions on that field of play, and their impact, you have no idea how big the commitment you made is and how the decisions you make affect the company community inside and out," he says.
Another useful tool in training a successor is having them work all over the business. The successors mentioned above say they all did that when they joined their family businesses as adults.
Sean Ryan appreciated the strategy. "When I came in [to the business] I didn't have a title for almost two years," he says. "I kind of bounced around in different spots, meeting our people and helping them in any way I could."
Bill Ryan also enjoyed this period because it allowed Sean the chance to prove he was capable at all aspects of leadership.
"He has incredible financial skills. I knew he could handle that aspect of the business, but it was important to see he could also build those relationships with employees, customers, buying groups," Bill Ryan says. "I wanted to make sure he was up for that.
"With each role, he continued to step up and show me he was ready for the next level."
Bill Betts says his experience was similar, and points to the relationships he made during that time as a key confidence builder as he moved up the company ladder.
The Resnicks say the latter is an extremely important and under-prioritized aspect of succession planning. Business leadership requires teamwork. Children who ascend into management positions without employee support face a stiff challenge.
"The ability to retain personnel should be part of a proactive plan," says Lee Resnick.
Paul Raymond says that's one of the reasons he and his brother Andy still go into work each day.
The Raymonds sold their business, Parts For Trucks, to brothers Corey and Brett Miller last year. Unlike most succession situations, the Millers were not Parts For Trucks employees or related to the Raymonds when they took over, but they did own a large tire business in the region. When the Raymonds were considering retirement and selling their operation, the Millers were one of several potential purchasers who expressed interest.
But unlike some of those purchasers who wanted to integrate Parts For Trucks under their own business umbrella, the Millers wanted to maintain the Parts For Trucks name and reputation.
The Raymonds were enticed by that and after the deal was concluded agreed to stay on as vice presidents to ensure a successful transition of ownership benefitting the Millers and the people of Parts For Trucks.
"The new owners want to make sure the company stays profitable and we want to see the company sustained," Paul Raymond says.
Complete your transition
Finally initiating a succession isn't like starting a car. There isn't a clear and necessary first step. Financial preparation and successor training can be performed for years before a business owner has any intention to exit his business.
But once a clear exit date appears on the horizon, it is best to devise a simple timeline that will allow for a smooth transition of leadership and ownership.
The Resnicks say timelines can vary depending on an owner's post-transition plans, but from a financial perspective, the duo says a business owner with a well-devised exit plan should be able to transition his business to his successor in about a year.
In cases where a successor is present in a business and ready to lead, a good first step is looping that person into financial discussions between the owner and his financial advisor. This transparent discussion ensures every party in the transition is fully aware of what's ahead and allows the successor to begin formal preparations.
As the corporate financial transaction begins in the background, a business owner's next step within the business should be communicating his plan to his trusted management team.
Bill Ryan says this step was invaluable at Point Spring because it showed him Sean's promotion would be accepted and supported throughout the company.
The meetings were similar at Betts Company, where Mike Betts says it became clear to him that the "level of respect [Bill] had earned" to lead was strong throughout the business.
"It really helped establish that hierarchy for us," he says.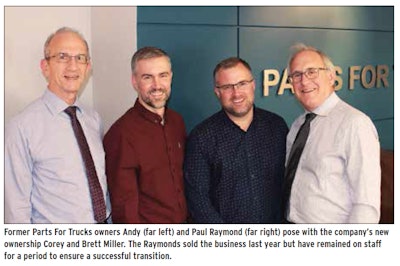 Company-wide discussions are a logical next step and can be performed many ways, though the Resnicks note in these instances it can help to have managers on hand to support the leadership throughout the meeting. Employees are assured when they hear consistent messaging from multiple positions of authority.
Additionally, these internal conversations should follow or run concurrently with external meetings with key customers and suppliers.
Zurbuchen remembers: "We spent time researching all of our key supplier agreements and our contractual agreements and having conversations with each and every one of them, executing protocol that was needed by their companies to solidify a smooth transition."
Paul Raymond says this is another reason why he's glad he and his brother have stuck around. Their involvement helped maintain Parts For Trucks' association with VIPAR Heavy Duty and their key accounts.
Once all of this is done and a successor is established, those who have gone through it say the best thing to do is step back. Both Ryan and Betts remain involved in their businesses, but at a distance. The direction and daily leadership of their companies are no longer their priorities.
"For the transition to be successful I knew I had to step away," Bill Ryan says. "If I'm there all the time people are going to ask me what I think, and I didn't want that."
Adds Mike Betts, "I'm there as another set of eyes, but I'm only going to give my opinion on something if he asks for it."
Watching from the sidelines isn't such a bad view, either. Both Betts, Ryan and Raymond acknowledge the joy of watching their new leaders on the job.
"It's kind of exciting to be quite frank with you," Raymond says. "They have some fresh ideas that when we look at them we sometimes realize, 'That was probably long overdue.'"
"I never told my kids that this would be my biggest dream come true because I never wanted to put that kind of pressure on them," Mike Betts says. "I wanted them to do whatever they wanted to do.
"But to see [Bill] has ascended to be our president and he's doing a great job. I couldn't ask for anything more."