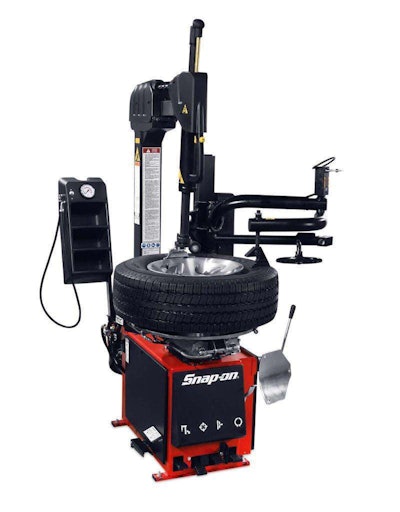 Snap-on introduces its EEWH331A Heavy-Duty Tilt Back Tire Changer.
According to the company, the EEWH331A features a unique tower that tilts back to speed setup and accommodate 16 in. rim clearances. Coupled with an innovative design with a Pneumatic Bead Assist arm and bead setting jets to mount low profile tires, and special accessories that assist in removing and installing truck tires, Snap-on says the tool is the most user-friendly and versatile tire changer the company has ever produced.
"This Tire Changer has increased capacity over previous models and handles larger tire and wheel assemblies with ease," says Michael DeKeuster, a Snap-on Tools product manager. "Coupled with its full suite of mount/dismount accessories for both low-profile and truck tires, this piece of equipment really is a perfect fit for high-volume shops servicing OEM cars, SUVs and trucks that also do custom wheels."
With standard equipment to aid technicians in faster, safer and varied tire changes, the EEWH331A also includes a comprehensive plastic protection package to prevent accidental rim damage and the capability to service small or large wheels and tires, the company says. The Pneumatic Bead Assist arm helps mount and dismount difficult tires efficiently with a bead pressing arm to press the sidewall into the drop center of the rim, a top roller to assist with low-profile tires and a lifting disk to hold the tire in place when removing the bottom bead.