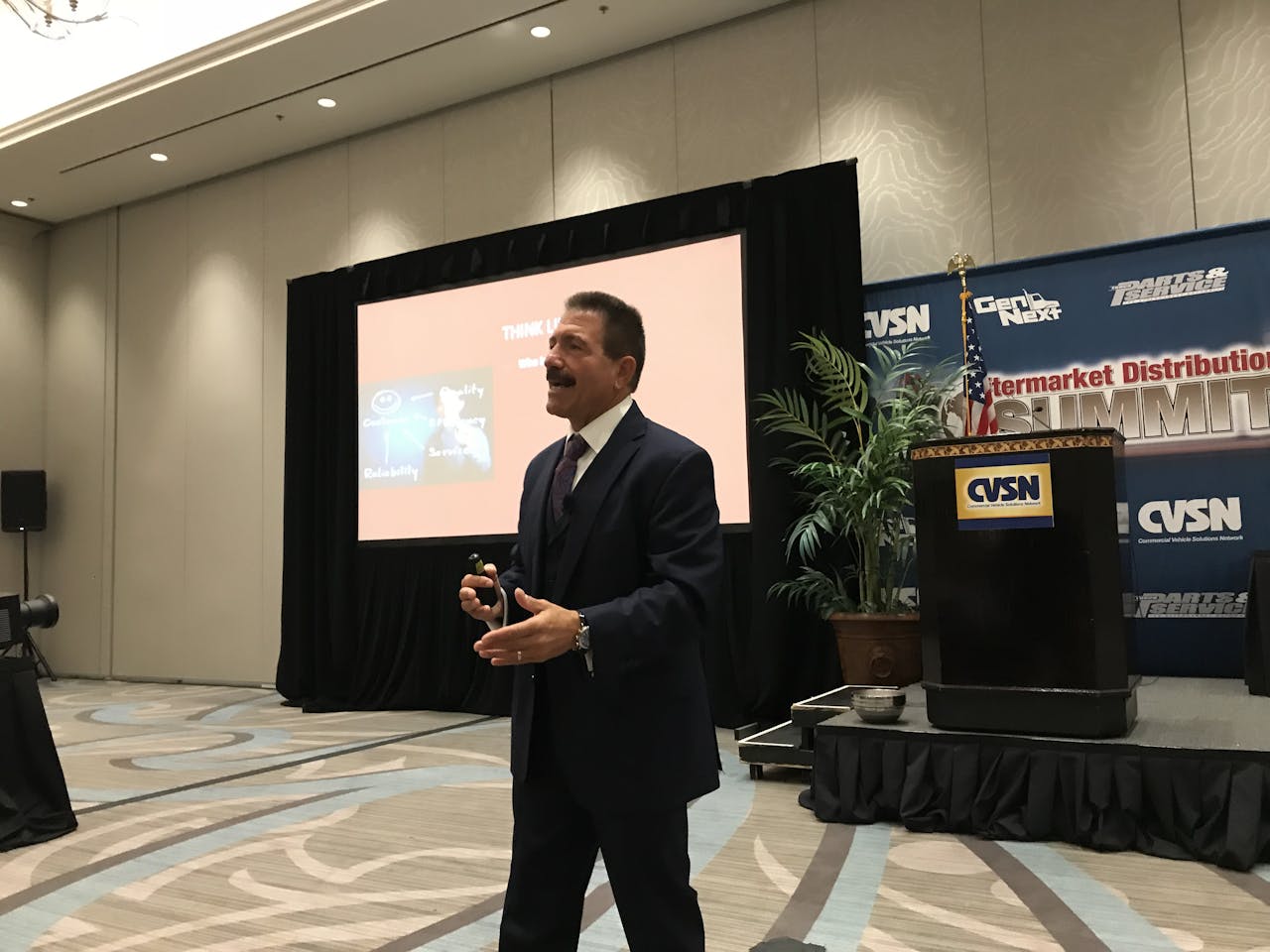 In business, as in life, there are benefits to balance. A balanced budget is good for a company's bottom line; a balanced product line earns and retains customers. And a balanced leadership approach, Rocky Romanella says that's the best balance of them all.
Speaking Monday at the Commercial Vehicle Solutions Network (CVSN) Aftermarket Distribution Summit in Braselton, Ga., Romanella, a long-time UPS executive, urged distributors to bring balance into their leadership strategy and corporations.
Romanella says balanced leadership, with an equal focus on customers and employees, creates an environment where anyone who interacts with your business understands exactly what your company stands for. Balance creates consistency and reliability.
To find the right approach with customers, Romanella says it's a good idea for leaders to put themselves in their customers' shoes. Think about their operation. Who are their customers, what issues are they trying to solve and what does good business and success look like to them, for examples. Romanella says sometimes this can be harder than it might appear at first glance. He references when UPS was working with a pharmaceutical company. Romanella says it took time for everyone at UPS to understand the pharmaceutical company's true customer wasn't the doctor or the drugstore — though that's where their products were sold — it was to the sick person in need of medicine.
He says 99 percent on-time delivery isn't good enough if "you're the one sick customer who doesn't get his medicine."
With employees, Romanella says balance is achieved when employees know exactly what they are expected to do, what they mean to their company, how their work impacts the company and, perhaps most importantly, they are motivated and empowered to do their work to the best of their ability.
Romanella says the latter is incredibly important because employees who lack authority to make decisions in their roles or have authority but do not take responsibility for their performance are a detriment not just to your company's efficiency, but also your bottom line and your reputation.
In the eyes of your customers, Romanella says "your company isn't you, it's the person who represents the brand."
Why do wealthy nations fail? 
The United States is currently in the midst of one of its longest uninterrupted periods of economic growth in history. GDP is growing a rate (4 percent) double that of Western Europe and, thanks to last year's tax cut and other federal government deregulation measures, business investment and repatriation are occurring in many of the nation's strongest and most vital industries.
An already wealthy nation is getting richer.
Todd Buchholz says that's plenty enjoyable in the short term, but in the longer term, the rate at which U.S. wealth is increasing and the nation is maturing should be monitored. Also presenting Monday at CVSN's Aftermarket Distribution Summit, Buchholz, former White House economic policy director for George H.W. Bush, says as developed nations gain wealth, they also begin to lose some of demographic features that allowed them to prosper in the first place.
Buchholz mentions birth rate and life expectancy as two particular demographic factors that could impact America's vitality moving forward. He says as America gains wealth and status, American families have started having fewer children. Coupled with better healthcare and living conditions, the nation also has dramatically extended its average life expectancy — creating an aging society where there are fewer workers supporting social programs (Social Security, Medicaid, etc.) and more people reliant on them for an extended period of time.
"In 1945 there were 42 workers for every retiree" on Social Security, Buchholz says. Today, that number is less than three.