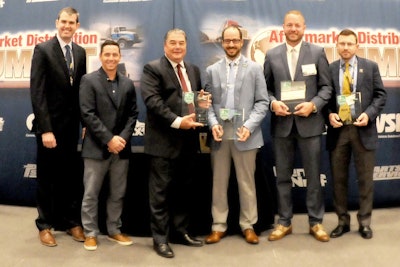 Steve Hansen, Ian Johnston, Nikki Paschall and Nick Tosie were winners of GenNext's first annual 4 Under 40 Awards, announced Monday at the Commercial Vehicle Solutions Network (CVSN) Aftermarket Distribution Summit in Braselton, Ga.
The awards, presented by GenNext and sponsored by Truck Parts & Service, recognize aftermarket individuals for their personal growth, corporate achievements and industry contributions to the heavy-duty aftermarket prior to the age of 40.
Hansen serves as director of marketing at Minimizer; Johnston is vice president of operations and marketing at Harman HVS, Paschall is marketing programs manager at HDA Truck Pride; Tosie is national accounts manager at BorgWarner. All incredibly active within the industry, Hansen and Johnston are past presidents of GenNext, while Paschall currently serves on the organization's board.
"Congratulations to all four of these winners.  We had an excellent list of nominees to choose from, which made the decision process very difficult," says GenNext President Nick Seidel of Action Truck Parts. "In the end, we feel this group represents a great cross-section of talent in our industry and each of them is extremely deserving of the award.
"I also can say this industry's work force is the key to our success, and if this group, as well as the other nominees for the award, is any indication, the future of the aftermarket will be very bright."
Hansen, Johnston and Tosie were on hand Monday to accept their awards. HDA Truck Pride President and CEO Don Reimondo accepted the award on behalf Paschall, who is pregnant.
"This industry is thriving, and a lot of credit goes to the hard-working employees who represent the companies here today," says Lucas Deal, editor of Truck Parts & Service.  "This award acknowledges that fact. The individuals honored today are great leaders now and hopefully will be for a long time."
Nominations for the award were solicited throughout the aftermarket, GenNext says. The four young professionals were chosen from an impressive list of almost 50 nominees. Distributor, supplier, marketing group, media and association management employees are eligible for the award.