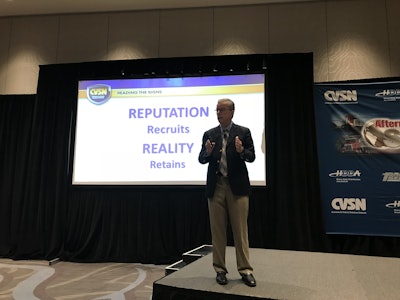 Richard Hadden says the current U.S. unemployment rate (3.9) is below the economic threshold for full employment. He says the drug-free unemployment rate is even lower, practically zero. Together, Hadden says those rates have created a hiring climate unlike anything seen in America for decades.
It doesn't matter if you're selling truck parts or tambourines, it's hard to find people today.
"We've reached a point where you can't find good, clean people off the street; you have to recruit them from other businesses," says Hadden, author of "Contented Cows Still Give Better Milk" and presenter Tuesday at the Commercial Vehicle Solutions Network (CVSN) Aftermarket Distribution Summit in Braselton, Ga.
But as straightforward as Hadden's statement may be, he says all too often businesses lack the skills and strategy necessary to attract quality employees to join (and then remain) in their operations. The days of hiring anyone and plugging them into a specific role are over, Hadden says. Businesses that are succeeding in hiring and retaining quality employees today are the ones that have abandoned conventional hiring practices and evolved to become more enticing to a new generation of employee.
In today's business climate, Hadden says "reputation recruits, reality retains."
During Tuesday's presentation, Hadden provided a list of leadership and employee management practices business owners should excise from their operations to create a culture and environment best suited to bring in talent.
Stop longing for the good old days
Hadden jokes "they are not making any more Baby Boomers. Production on that line has shut down." The future of any business that aspires to have a future is with the Millennial generation, and Hadden says leaders need to adapt every aspect of their business they can to this younger workforce. This includes less expectations around set hours and positional requirements and more employee freedom to work where and when they prefer when possible. "Are you paying for performance or results?" he says.
Stop obsessing over skills and expertise
Hadden says this is particularly important in an industry like the aftermarket where employers are eager to find career employees. He says if you want to hire a young person and convince them to stay, you need to make sure they first fit into your corporate culture. If they like what you do and how you do it, then you can train them on the industry.
Stop running a boys' club
Men aren't the only people who can stand at a counter and sell truck parts. Hadden says male-dominated fields that view their work as masculine endeavors are typically wrong and unnecessarily eliminate 50 percent of potential employees before even starting the interview process. Referring to his previous point, Hadden says a prospective employee who fits a business's culture is more valuable than long-term than an experienced worker lacking other skills.
Stop tolerating a pathetic career section on your website
Hadden says a Careers — always Careers, never Jobs — section on your company's website should communicate your brand and provide prospective employees a clear look inside your operation as well as sharing your employment needs. Hadden says too often businesses share only the latter and failure to display the experience of what it's like to be a part of a company. And he says that's the information job seekers look for when deciding where to apply.
Stop living in denial of Glassdoor
Several attendees in Tuesday's presentation were unaware of Glassdoor, the online employer rating site Hadden describes as Yelp! for businesses. He says that's a good thing, as all too often he meets business executives who believe Glassdoor ratings are flawed and that no one takes them seriously. He says he doesn't know if the former is true but that the latter definitely is false. "The best thing you can do to have a good Glassdoor rating is be an exceptional place to work," he adds.