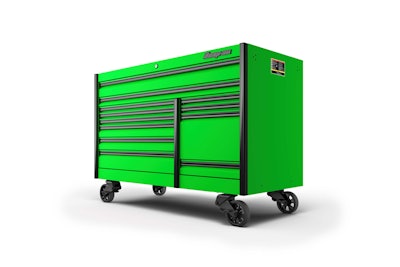 Snap-on KERP682AO 68-in., 12-Drawer EPIQ Series Roll Cabs and KMP1022 54" 11-Drawer Masters Series Roll Cabs are now available in new matte green and matte orange color options. All feature a customizable SpeeDrawer for organizing loose fasteners, parts and tools, and the PowerDrawer, a dedicated drawer for charging power tool batteries and handheld devices, according to an announcement.
The 2-in. SpeeDrawer in each cab features built-in, color matching dividers, while the PowerDrawer offers a staggered powerstrip with five outlets and two USB ports. Technicians also can take advantage of a convenient drawer layout with two extra-wide drawers on top to provide easier access to the most often used tools, as well as InPulse (EPIQ) and Lock 'N Roll (Masters) technology that prevents drawer drift. An ISO-Ride+ System equips these two cabs for rough surfaces, while providing four tons of load capacity; they both feature swivel lock mag wheels with compression suspension and a dual brake lever.
"Snap-on continues to innovate its tool storage options to not only maintain the durable, rugged — yet esthetic — layout unique to our brand, but also to provide the convenience of our PowerDrawer and SpeeDrawer features," says Scott Amundson, a Snap-on Tools product manager. "Roll cabs are truly the centerpiece of any service bay — functional, mobile storage for tools of the trade — and we're proud to see our hard-working designs continuing to meet technicians' growing needs."
The two new color options for the KERP682AO and KMP1022 Series were introduced at the recent Snap-on Franchisee Conference. They allow greater box customization to match any shop theme of technician preference. Additionally, the KERP682AO features EPIQ strength and style. Its standing seam construction with additional top, bottom and side support makes it the strongest roll cab design in the Snap-on lineup, and its flush fronts and trim reduce snag points and provide a fresh EPIQ look.